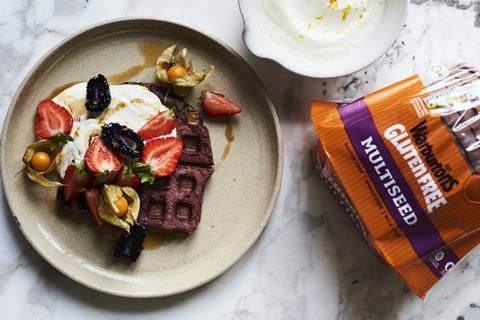 Warburtons has teamed up with chef and author Anna Barnett to create bespoke recipes to promote its gluten-free range, which has been given a new look.
The free-from range includes a tiger bloomer, crumpets, toastie loaf and multiseed loaf which, from the start of this month, were rolled out in updated packaging. The packs are now predominantly orange and bring the brand more in line with Warburtons' core offering, it said.
To celebrate the revamp, Barnett – who recently released the cookery book 'How to be Gluten Free and Keep Your Friends' – has created five recipes for breakfast, lunch and dinner to show how Warburtons Gluten Free products can be used,
These include waffles blitzed and soaked in berries, a pasta dish served in a gluten-free bread bowl (see below for full recipe) and an open charred sandwich with fried garlic prawns.
"We're delighted to be working with Anna to champion our high-quality gluten-free range. The recipes Anna has developed demonstrate the versatility of our Warburtons Gluten Free products and how they can be enjoyed in many different ways, across different meal occasions," said Chris Hook, free from director, Warburtons.
Barnett added that she was delighted to be working with Warburtons on the project.
"I hope my recipes for Warburtons show that living a gluten-free lifestyle doesn't need to be restrictive or boring, and that gluten-free products can be used in innovative ways. I hope I have inspired both experienced and budding home cooks and bakers to try something new over the coming weeks, for themselves or friends and family to enjoy," she added.
Recipe: Gluten-free carbonara pasta torte with buttered bread bowl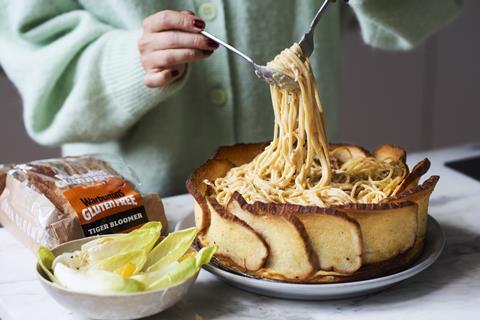 Feeds: 4-6
Preparation Time: 20 mins
Cooking Time: 25-30 mins
26-28cm cake tin, with removable sides
Ingredients:
1 Gluten Free Tiger Bloomer Loaf– cut into 1cm slices
70g butter – melted
Small bunch of sage leaves
500g gluten free spaghetti or pasta of your choice – cooked as per instructions
6 free-range eggs
550ml double cream
160g Grana Padano – finely grated
Generous sprinkle of sea salt flakes
1 tsp of freshly ground black pepper
3 sprigs of sage – leaves picked from stem, finely sliced
180g roughly chopped good quality ham/prosciutto or crispy fried lardons (optional)
*Please note, we would always recommend checking the manufacturer's ingredients when purchasing products to ensure they are suitable for a gluten-free diet.
Method:
Preheat your oven to 190 degrees Celsius.
Begin by adding a sprig or two of sage to your butter and melting it over a medium to low heat.
Slice your Warburtons Gluten Free Tiger Bloomer bread then coat each slice in butter on just one side.
Begin by placing the sliced bread on the bottom of the cake tin butter side down. Next, arrange your slices of bread slightly overlapping next to each other around the outside of the cake tin.
Cook your choice of gluten free pasta in salted boiling water. Whilst the pasta is cooking, in a large bowl combine the egg, cream and two thirds of your cheese then add seasoning and chopped sage leaves. Transfer your pasta from the hot cooking water to the mixture. Add in the meat if using and thoroughly mix together before transferring with tongs to your bread lined cake tin. Scatter over the remaining cheese and place in the oven for around 25-30 minutes.
Once cooked remove from the oven, allow to rest for a few minutes then carefully remove the sides of the cake tin. Carefully slide a knife underneath the bread base and slide the pasta torte onto your serving platter or board. Serve while hot.