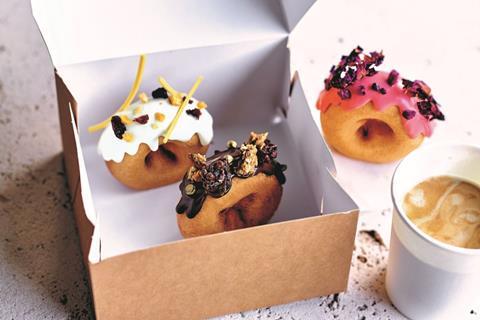 Puratos UK is extending its Soft'r range with a plant-based doughnut mix and complementary fillings.
The Soft'r Doughnut is described as a 50/50 mix for yeast raised doughnuts. The new 'smooth and creamy' fillings, meanwhile, come in caramel and chocolate variants and can be used for post-bake injections in doughnuts and muffins, or as a dipping sauce.
The NPD forms part of the 250-strong Plant Forward range. Many of the products in the range are naturally vegan, according to Puratos, but it also features solutions to replace eggs, butter, and animal-based proteins in bakery recipes.
Plant Forward is part of a global campaign by the international baking, patisserie and chocolate ingredients company designed to encourage customers to add plant-based bakery items to their portfolio.
Puratos' customers in the UK are encouraged to share their vegan development challenges on social media using the #ChallengeUsVegan.
"Last year, 25% of all NPD in the UK bakery sector was plant-based so we know there is a huge appetite among consumers, especially with a record-breaking 560,000 people signing up to the 2021 Veganuary campaign," said Lydia Baines, digital and communications manager, Puratos UK.
"We also know that taste and texture are key drivers for the success of plant-based products and these are key attributes of our new Soft'r Doughnut mix and luxury caramel and chocolate fillings."
Suppliers are tapping into the continued demand for vegan products in the UK with a host of new launches. CSM Bakery Solutions, for example, expanded its vegan range earlier this year with two new cake mixes and a dairy-free cream while Ulrick & Short announced in November that it was to concentrate on vegan bakery ingredients and other NPD with a health, wellness and sustainability focus over the coming months.