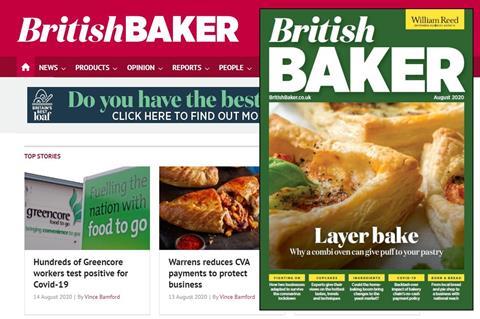 British Baker has served the bakery community for more than 100 years – and we plan to do so for at least 100 more.
To do this, we must evolve to meet the changing needs of you, our readers and customers.
We have done this in the past when we launched a market-leading website, e-mail newsletters, awards, conferences and exhibitions, and when we evolved the magazine, most recently three years ago with a radical redesign and shift to monthly publication.
Now we need to evolve again.
As you are well aware, coronavirus has accelerated the shift to a digitally focused marketplace.
In recent months many bakery businesses have ramped up their own digital activity because that is what circumstance and customers required.
And we are doing the same.
Businesses want to receive information in different ways so we have reviewed how we can continue to deliver the best reach and market-leading information.
As a result, we have accelerated our digital plans. Central to this has been investment in a new system to produce our website, britishbaker.co.uk.
This went live in July and is already delivering a vastly improved experience for users, whether they are viewing the site on a desktop, tablet or phone. It will also enable us to continue developing exciting ways of sharing editorial and commercial content.
The new format will enable us to explore the issues that matter to you in more depth than ever before
Alongside this, we are evolving our magazine to enable us to better serve the needs of a modern bakery audience and will now publish six editions a year.
Each bumper edition will be tightly themed around specific, core aspects of the market, such as sweet bakery, equipment or bread. The new format will enable us to explore the issues that matter to you in more depth than ever before.
The magazine, website and newsletters will continue to be produced by the great British Baker team who will provide the market with news, analysis, features, advice, opinion, insight, inspiration and support.
We will also continue to bring the bakery industry together at events such as the Baking Industry Awards, The Farm Shop & Deli Show and the FoodEx show, while also providing research through Lumina Intelligence, our insight service.
Should you have any queries about our plans, the team will be delighted to talk through them in more detail.
As you will see over the coming months, we are retaining the best of British Baker while enhancing it to ensure we continue serving the industry for decades to come.
Lorraine Hendle
Managing director, retail & manufacturing