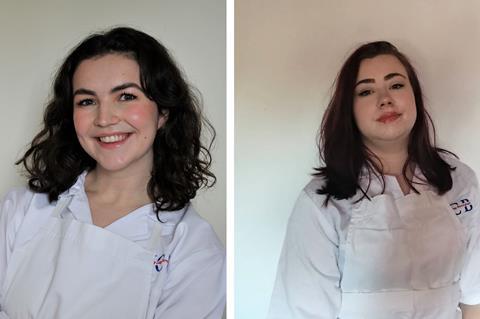 Dawn Foods has appointed its student ambassadors for 2022 as part of an ongoing partnership with University College Birmingham (UCB).
This year's ambassadors are Ellen Horsey and Claire Pretty, both final-year students on UCB's Bakery and Patisserie Technology degree course. In addition, Krystal Jenkins, one of Dawn's 2021 student ambassadors, will continue in the role for the beginning of this year.
The trio will be working with Dawn's application chef Robin Loud to create new recipes using the company's products, as well as blogs and insights aimed at professional bakers.
Horsey and Pretty are both active on Instagram via their personal accounts, where they share bakes and ideas, and they will also be using Dawn's social platforms to post ambassadors' blog entries, recipes, ideas, tips and trends.
Horsey has an interest in gluten-free bakery and is keen on pursuing a career in bakery NPD, having recently worked in a care home kitchen assisting the chef to prepare food and treats for the residents. Pretty is a vegetarian, interested in food intolerances and vegan bakery, who alongside her studies is currently working as an assistant pastry chef at a Birmingham bakery.
The new ambassadors will be starting the year by looking at vegan recipes and ideas, Dawn said.
"Dawn's partnership with UCB is an enormously beneficial two-way process," said Jacqui Passmore, marketing manager UK and Ireland at Dawn Foods. "We gain some fantastic insight from the students on the latest trends to share with our bakery customers, while our ambassadors gain hands-on experience within the industry to enhance their CVs.
"The standard of applicants every year is always high, and we are delighted to be working with the students who showed us some new ideas and understanding of current bakery trends in their applications," Passmore added.
Last summer, Dawn employed Vaishnavi Vora, one of its 2019 student ambassadors, as a junior product developer.