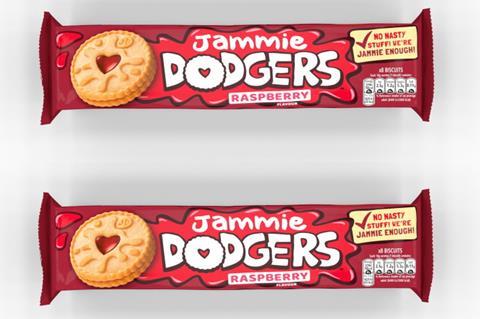 Burton's Biscuit Company has unveiled a new branding and vegan status for its Jammie Dodgers range.
Described as a "playful" new look, the revamp will be 100% plant-based and emphasise the exclusion of artificial ingredients and hydrogenated fats with the front-of-pack message 'No nasty stuff! We're Jammie Enough!'
The darker packet redesign is aimed at young consumers and is set to appear on all Jammie Dodgers SKUs, including Jammie Dodgers Minis. The inner packs will also include a series of fun, vibrant designs, said Burton's.
"The pack redesign stays true to the brand's core values, reflecting its humble origins, but propelling it into the modern age in a fun, relevant way," said Kate Needham, marketing director at Burton's Biscuit Company.
Jammie Dodgers will also unveil a new dairy-free recipe to tap the growing demand for free-from and vegan products. A vegan-friendly logo will be displayed on the back of packs, along with a panel showing its lack of "nasties", explained the firm.
"Alongside the new look, we've taken our recipe to the next level. We're certain that it meets passionate pleas from the vegan community to remove dairy, while maintaining the high taste standards we've held for over 50 years."
"The tone of voice across the pack has been refined to be more in keeping with the character of the brand, while emphasising the growing number of shoppers focusing on the quality and ingredients of the food they eat," added Needham.
The new-look Jammie Dodgers will be available in stores nationwide from 13 July.