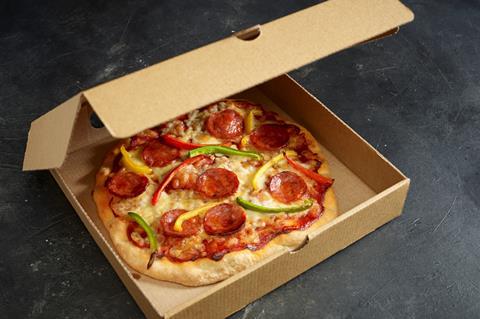 In-store bakery and foodservice supplier Country Choice has launched Flatstone Pizza Co – a branded concept enabling retailers to serve made-to-order pizzas.
The package is designed to provide retailers with everything they require to offer customers eat-in or takeaway pizza options.
Country Choice worked with a craft baker to develop the hand-stretched pizza base. Each base is brushed with extra virgin olive oil and dusted with durum wheat semolina before being part-baked in a stone oven.
The signature Flatstone Pizza Co sauce, made with tomatoes from Portugal, oregano, peppers, basil and garlic, is supplied in 1.5kg pouches to pipe onto the base before spreading.
Two pre-grated cheese options accompany a range of toppings including Margherita, Pepperoni, BBQ Chicken, Meat Feast, Hawaiian Ham, Ham & Mushroom, Chicken & Pepperoni and Plant Lovers.
The pizzas can be baked in a convection oven, a Merrychef oven or a dedicated tabletop pizza deck including a fire-brick base. Country Choice offers on-site training as standard, supported by online step-by-step guides and 'what to do' cards for reference.
The company also provides chopping boards, knives, squeezy sauce bottles, spoons, portioners, pizza cutters, pizza peel and temperature probes.
For serving the pizzas, there is a choice of 9in and 11in wooden serving boards for table service, recycled Kraft pizza boxes and fully branded labels for takeaway as well as carry bags. There are also marketing materials, including posters, social media graphics, 'A' boards, drinks coasters, table talkers, banners, flyers, editable menus and social media videos.
"Demand for pizza continues to grow, driven by big brand advertising and the growing home delivery sector," said Neil Lindsell, Country Choice retail operations manager. "As a result, 85% of Brits now buy pizza so there has never been a better time for retailers to add it to their menu.
"The opportunity to include pizza as part of a takeaway or home delivery option is particularly beneficial to a retailer's food to go offer as it allows them to extend it into the evening and secure incremental sales of accompaniments such as salad and alcohol."