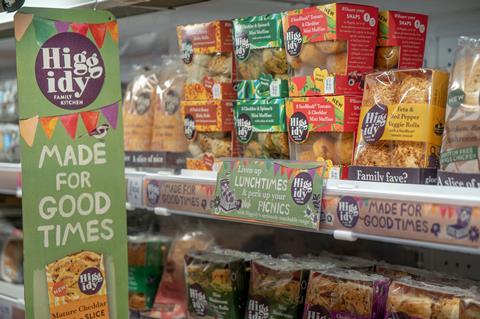 Higgidy has launched branded shelf 'takeovers' in Sainsbury's stores, featuring items from its savoury bakery range.
The lunch and picnic themed fixtures have been rolled out in 277 Sainsbury's stores, offering consumers a choice of Higgidy products including its 6-Pack Sausage and Veggie Rolls, Pork Pies, No Pork Pies, SunBlush Tomato & Cheddar Mini Muffins and Dinky Rolls.
As part of the takeover, Higgidy will also have branded aisle fins and shelf strips, as well as a branded barkers to support the fixture in-store. The messaging and visuals of the aisles are in in-line with Higgidy's 'Made for Good Times' campaign, and the fixtures will feature in Sainsbury's stores until September 2021.
The opportunity was proposed by Sainsbury's as part of its 'lunchtime mission', Higgidy said.
"This is a very exciting opportunity for us to capitalise on lunchtime and picnic occasions with the new shelf in Sainsbury's," said Camilla Stephens, co-founder of Higgidy.
"Our mission is to help liven up lunchtimes and perk up picnics, so we want to be able to provide consumers with a range of delicious and exciting options and the new branded fixture aims to do just that."
Richard Welch, buyer at Sainsbury's, said the supermarket was "delighted" with its partnership with Higgidy.
"The collaboration not only ensures we are continuing to put food first for our customers, but also offers Sainsbury's shoppers premium meal and snacking options, for either at home or on-the-go," Welch added.
This isn't the first time Higgidy and Sainsbury's have partnered on a branded concept. In 2020 extended its in-store deli counters to more than 200 of the retailer's stores following a trial run.
The partnership follows Higgidy's recent expansion into the food-to-go sector with the launch of its new range of Slices comprising Ham Hock & Cheddar, Mature Cheddar & Onion and Chicken, Bacon & Mushroom, which made their debut in Sainsburys in April. It also rolled out a Mediterranean Pepper & Feta Quiche as part of a recent NPD push on vegetarian items.