Waitrose has gone big on desserts and bakery this Christmas with more than 20 new products set to hit shelves during the festive season.
There are lashings of chocolate, spices, and booze as the retailer looks for its Christmas food to be as decadent and warming as possible.
"When creating desserts for Christmas, the team and I were inspired by delicious trending flavours, as well as treats from French patisseries," said Emily Bundy, partner & dessert product developer.
The retailer has also unveiled a trio of festive sandwiches to help keep spirits high in the run up to the big day.
Here, British Baker takes a closer look at Waitrose's yuletide offering: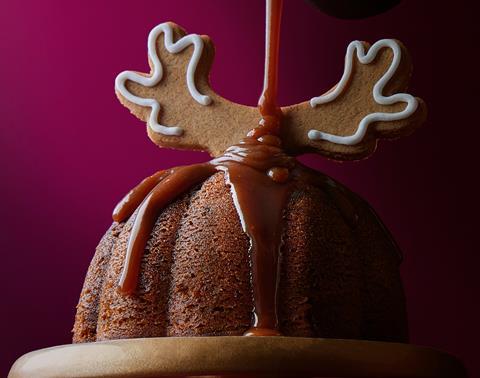 Deer-licious Sticky Toffee Pudding
This joyful alternative to a traditional Christmas pudding is made with dates and gingerbread spices for a festive flavour. It's finished with a drizzle of toffee sauce alongside gingerbread antlers that can be added before serving.
Rsp: £10, 550g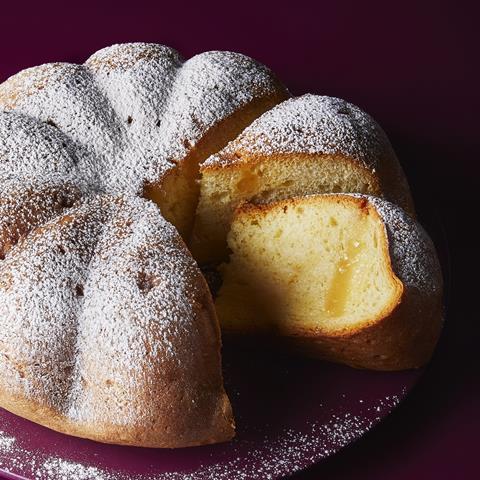 Cinnamon Bunettone
The latest bakery hybrid is a cross between a panettone and cinnamon bun. The so-called Bunettone is a light cinnamon-spiced Italian cake with pockets of sweet mascarpone sauce. It's served with a sachet of cinnamon icing sugar to finish. Made in a family-run bakery in Piedmont, Italy, the Bunettone takes over 24 hours to create.
Rsp: £8, 500g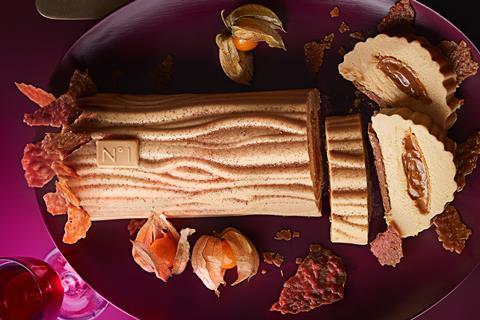 Golden Bûche de Noël
Waitrose's Christmas showstopper this year is the Golden Bûche de Noël. Part of the No.1 range, it's described as a luxurious take on the French classic with layers of blonde chocolate mousse, salted caramel and caramelised biscuit sauce on a milk chocolate base speckled with caramelised biscuit.
"The Golden Bûche de Noël showcases flavours of blonde chocolate, caramelised biscuit and salted caramel, making it truly decadent," Bundy adds. "We also wanted to bring an element of personalisation, so we've added a sugar sachet to each pack so that customers can bake their own sugar bark to decorate it with."
Rsp: £20, 800g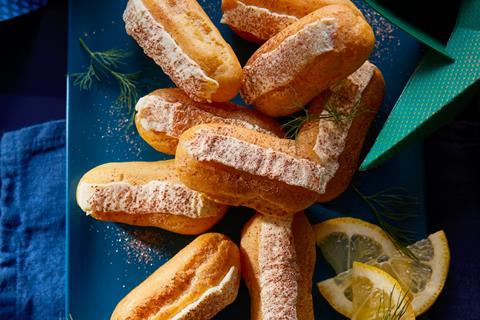 Smoked Salmon Eclairs
Patisserie with a savoury twist. These eclairs see choux pastry filled with smoked and poached salmon, crème fraiche, soft cheese, single cream and butter, with a squeeze of lemon juice and a scattering of chives. They're finished with a topping of soft cheese and a bronze lustre for added wow factor.
Rsp: £7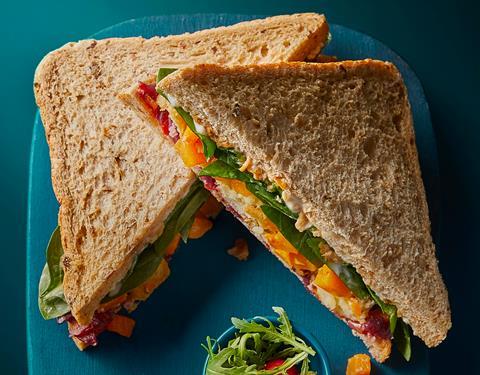 Vegan Bubble & Squeak Sandwich
Vegans aren't left out of the Christmas sandwich fun. Waitrose has added a vegan bubble & squeak sandwich to its line-up which sees crumbled bubble & squeak, roasted butternut squash, Christmas-spiced pickled red cabbage, chilli jam, vegan mayonnaise, crispy fried onions and spinach sandwiched between soft malted bread.
Rsp: £3.50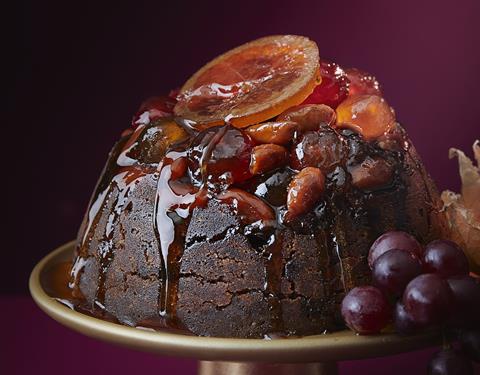 Sicilian Orange & Whisky Christmas Pudding
A Christmas pudding with a difference – that's how Waitrose describes this take on the festive classic. Inspired by an Old Fashioned cocktail, this richly fruited pudding is laced with Scottish whisky, topped with red and blonde glacé cherries, almonds and candied orange and finished with a sticky Sicilian orange sauce.
Rsp: £15, 800g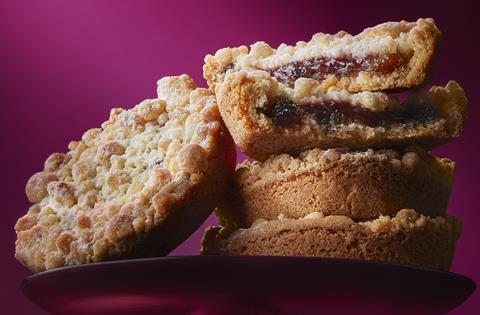 Crumble Mince Pies with Orange and Cranberry
Waitrose is tapping into the trend for crumble-topped mince pies this year. Its iteration sees all-butter pastry filled with zesty mincemeat with a dash of Valencian orange oil, tangy cranberry, and a buttery crumble on top.
Rsp: £3.75 for four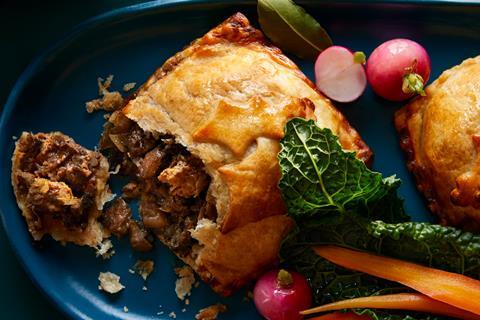 Ultimate Plant-Based Festive Wellington
Part of the No.1 range, this wellington is filled with a mushroom duxelles and 'no beef' plant-based protein braised in a shallot, garlic and thyme stock.
Rsp: £7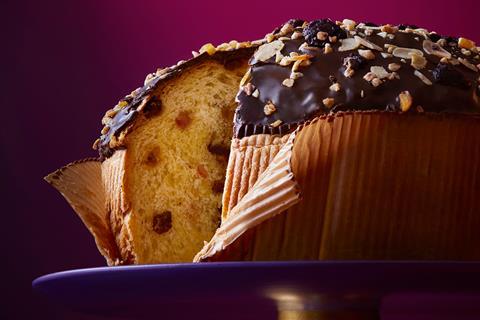 Florentine-inspired Panettone
Two delicious bakery items come together in this buttery panettone inspired by the flavours of Florentine biscuits. It's speckled with sultanas, cherries, and Sicilian orange peel, swirled with caramel sauce, and finished with dark chocolate, cherries, orange peel, almonds and Nocciola Piemonte hazelnuts. It's crafted by a family-run bakery in Piedmont, Italy, where each panettone takes more than 24 hours to make.
Rsp: £16, 750g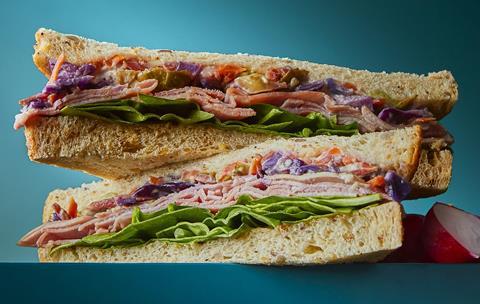 Ham & Festive Slaw Sandwich
Described as a 'medley of sweet-savoury festive flavours', this sandwich features glazed ham with orange & whiskey marmalade chutney, tender spinach, and a crunchy sprout slaw on bread made with a mix of grains and seeds.
Rsp: £4.75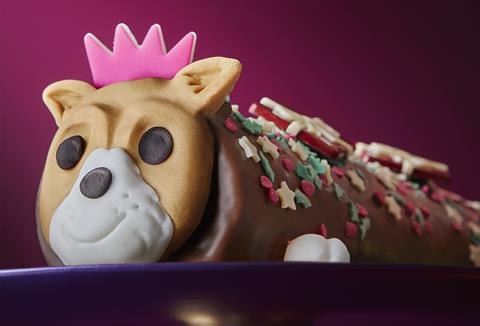 Jolly Jack Russell
Jolly Jack Russell puts the holly jolly in Christmas. Made from chocolate cake rolled with chocolate buttercream, it's finished with a milk chocolate 'coat' and sweet decorations.
Rsp: £8.50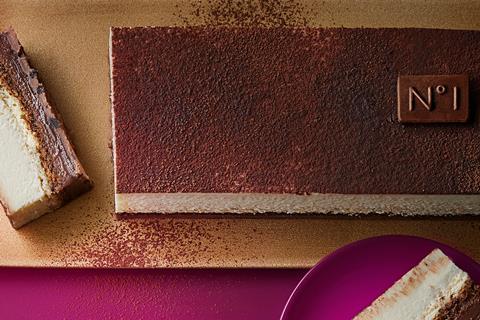 Tiramisu Torte
Waitrose is taking tiramisu to the next level by recreating it in the style of French patisserie. This version has layers of creamy vanilla mousse, coffee & chocolate ganache, and sponge cake soaked in coffee and Marsala, on a crunchy coffee and milk chocolate base. It's hand-finished with a cocoa dusting.
Rsp: £16, 570g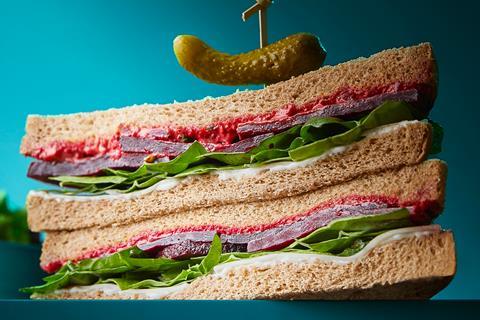 Salt Beet & Emmental Sandwich
A twist on the classic salt beef on rye, this sandwich sees dark rye bread filled with roasted spiced beetroot, mustard mayonnaise, tangy gherkins, spinach, and sliced Emmental cheese.
Rsp: £3.75