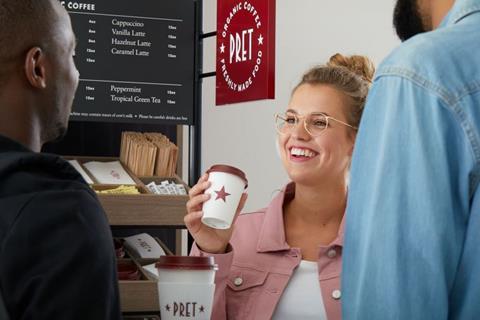 Pret A Manger looks set to make its debut in Canada after reaching an agreement with A&W Food Services of Canada to pilot the brand.
Under the terms, Pret's food and coffee will be brought to customers in A&W restaurants – a hamburger company with more than 1,000 sites – during an initial two-year trial phase.
If successful, A&W will be granted the exclusive right to expand the brand across the country from Vancouver Island to Newfoundland depending on an agreed development plan.
Pret first revealed plans to double the size of the business within five years and expand into five new markets by the end of 2023 last month. At the same time, accounts for the firm showed that its revenue for 2020 fell 58% to £299m – down from £708m in 2019 – while its operating loss for the year before tax fell to £256.5m. However, the company noted that its recovery had recently 'gathered pace'.
Speaking about the Canadian expansion, Pret A Manger CEO Pano Christou said: "We're still at the early stages, but we're really pleased to have agreed terms with A&W to bring our freshly made food and 100% organic coffee to Canada.
"Over the past year, we delivered more change than in thirty years of Pret history – and it's all about bringing Pret to more people in new markets around the world."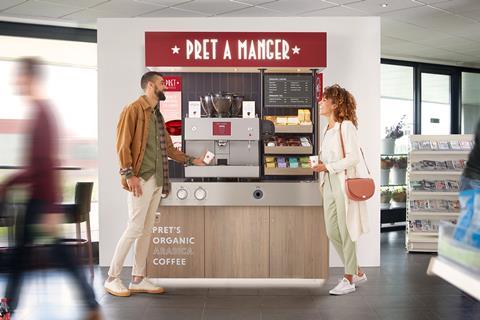 The news comes as Pret partners with JDE Peet to trial Pret Express, a smart self-service coffee-to-go solution across convenience stores, forecourts, universities, healthcare facilities and workplaces in the UK.
The move, which forms part of Pret's mission to 'bring Pret to more people', will see the technology offer a range of slow roasted 100% organic specialty coffees, tea, fresh organic milk combinations and 21 drink recipes.
"This is new territory for Pret, which will allow more people across the country to enjoy Pret's organic coffee and tea on the go, in places where there isn't the right space to set up a new Pret shop," Pret A Manger UK trading director Guy Meakin said.
JDE Peet's marketing director professional UK&I added: "Expectations for coffee and tea on-the-go have evolved, with people seeking the highest quality experiences at any location. Through this innovative partnership, Pret Express will deliver a wider range of products across all out-of-home segments, to a broader audience than ever before."
Earlier this year, Pret revealed it was also looking to extend its presence in regional towns, with plans for 100 franchise shops along with 100 openings of company-owned stores.