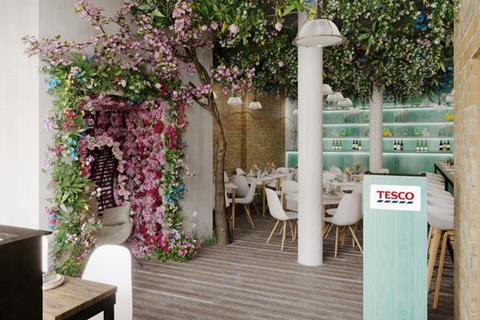 Tesco is claiming a UK first with the opening of a hot cross bun café in east London.
The pop-up café, located in Great Eastern Street in Shoreditch, will be open for one week only from 5 April. According to the retailer, the venue offers a range of 'hot cross bun-filled dining experiences to suit all tastes', including brunch, afternoon tea and five-course dining from £5 per head.
All the café's proceeds will go to the supermarket's charity partner, the Trussell Trust, with the aim of helping it to provide emergency food and support to people in crisis this Easter.
Every dish or cocktail served at the café will feature Tesco products 'with an innovative twist on the hot cross bun', the retailer said. These include vegan Hot Cross Bangers and Smash at brunch, Hot Cross Scones at afternoon tea, and Hot Cross Bun Espresso Martinis and Hot Cross Bun Steak Tartare at dinner, with gluten-free options available at every session.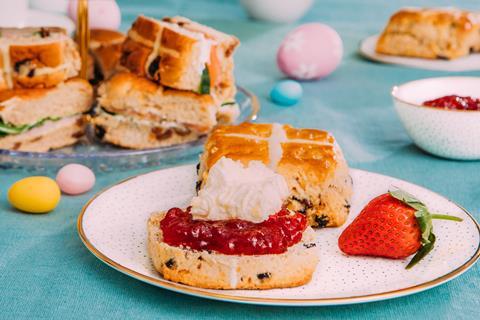 The opening of the café comes after sales for Tesco's hot cross bun products rose by a fifth (20%) in 2021, with its Finest Hot Cross Bun range growing by a third (30%), according to the supermarket. Kantar also reported that shoppers spent £37m on hot cross buns and a combined £153m on Easter eggs and hot cross buns in 2021, up £48m from the previous year.
With Tesco expecting popularity of the product to peak even further in 2022, the retailer is offering 11 hot cross bun inspired innovations this year, including new products within its Tesco Finest range. These include Tesco Finest Blueberry Hot Cross Buns along with Tesco Finest Hot Cross Bun Bread & Butter Pudding and Tesco Finest Hot Cross Scones.
The supermarket also said its in-store cafés will be serving the Hot Cross Bun Ice Cream Sandwich, also available at the Shoreditch venue, from 4-17 April this year.
"After two years of pared back celebrations, we wanted to do something special to bring people together this Easter – both through the Tesco Hot Cross Bun Café experience, and with this year's products," said Alessandra Bellini, Tesco chief customer officer.
"The hot cross bun is very much having a moment in 2022. We wanted to go one step further and create a memorable Easter experience that allows hot cross bun lovers to enjoy our extensive offering in a variety of new and unexpected ways, while celebrating with family and friends," Bellini added.