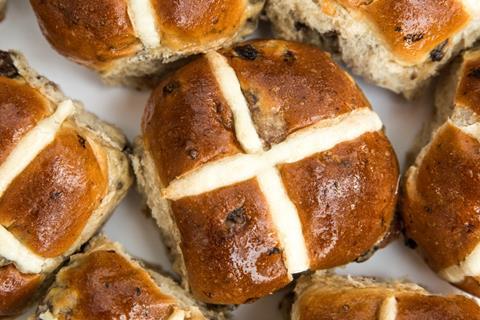 More than three quarters (77%) of craft bakers are expecting to sell more hot cross buns this year compared to last, a survey by the Craft Bakers Association (CBA) has found.
Seventy-three per cent of those surveyed predict they will sell between 500 and 5,000 of the Easter staples over the seasonal period with a small number (3%) predicting they will sell more than one million.
The survey also revealed a growing trend towards alternative flavours of hot cross buns – something already widely seen in supermarket ranges. Popular flavours for craft bakers will include dark chocolate (35%), apple & cinnamon (28%), toffee (14%) and coffee or mocha (7%).
Savoury flavours are also coming to the fore, although they remain less common than their sweet counterparts. Seven per cent of bakers polled will be selling cheese hot cross buns this year while sourdough buns are proving more popular, with 14% adding them to menus.
To capitalise on demand, bakers are selling hot cross buns weeks ahead of Easter. Almost half (45%) added them to shelves in March and a quarter have had them on sale since February. Notably, 12% of those surveyed sell them all year round.
"Hot cross buns have always been an obvious choice for customers at Easter and we expect this popularity to continue," said Daniel Carr of Reading-based Warings Bakery and CBA director.
"Alternative flavours are proving particularly popular, which is why in addition to our traditional hot cross bun, this year, for the first time in our history, we are offering two new flavours – apple & cinnamon and caramel & chocolate chip."
The Craft Bakers Association represents around 500 bakery businesses in England, Wales and Northern Ireland – from startups to established bakeries – supporting a total of 3,000 shops on the high street.