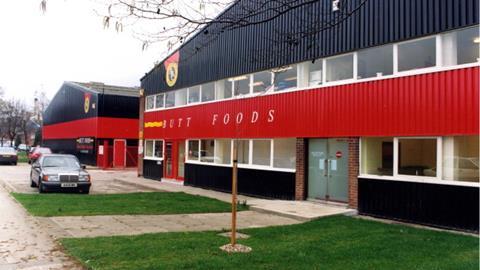 Butt Foods was born by chance. The idea for a naan bread business was sparked by Mazhar Butt in the 1980s after a customer failed to pick up a large order of naan bread from his family-run curry house in Nottingham, called Royal Sweets. Rather than see the handmade products go to waste, he put them out for customers to buy to take home with them. It was a storming success.
So much so that, in 1990, Mazhar made the decision to rent out a small production unit in Basford, supplying cash and carries with naans.
"We weren't sure whether he was a genius or a madman," says Dan Butt, Mazhar's son and managing director of Butt Foods. That was until Brakes Brothers, now Brakes Foodservice, came on board as the business' first major customer. Central Foods has since joined the fold as a distributor, and Butt Foods also supplies pub chains with products and has secured a listing with a major retailer.
Authenticity is crucial, believes Dan, as Butt Foods aims to create products as good as those made in a tandoor – an open-top, high-temperature oven used for baking naan breads. "We have designed and built our own oven to replicate a tandoor, which gives a soft, bubbly product. This is the reason for our longevity in a competitive industry," Dan explains.
From starting off with one sku, Butt Foods has expanded its portfolio to 30 products. Among these are its foray into sub rolls with its Big Softy range, the branded Baked Earth range and, most recently, the sourdough naan that is now one of its bestsellers.
Dan and his brother Taz always planned to join the family firm, as they "wanted to carry on the family legacy". Having undertaken an apprenticeship, Dan pursued a career away from Butt Foods for a few years before re-joining as managing director in 2017. Taz came back on board a year later.
"My dad has been really supportive," Dan says. "I told him I wanted to challenge the status quo, shake things up and invest in the business – without investment you can't have growth."
This investment has seen production increase with the installation of new lines taking output to 15,000 naans an hour, staff numbers increase to 60, and the Lenton factory expand. Butt Foods now has five production lines and three packing lines.
Looking to the future, the next generation Subhan (Dan's nephew) has joined the business as an apprentice. When it comes to NPD, Butt Foods is set to launch a range of premium flatbreads for 2020.
"As a small family business, we have been on a really strong growth curve, focused on innovation. We want to continue that," Dan concludes.
Timeline
1972: Mazhar Butt opens Royal Sweets, an Asian restaurant and sweet shop in Nottingham
1990: Butt Foods is established as the business moves into a 3,000sq ft bakery in Basford
1997: Production is moved to a custom-built site in Lenton
2010: The business branches into sub rolls with its Big Softy range
2017: Dan Butt (pictured) re-joins the business as MD, followed by his brother Taz a year later
2017: Butt Foods taps into the sourdough trend with the launch of sourdough naan
2019: The Baked Earth naan and flatbread range is tweaked to make it vegan-friendly