Marriage's Millers was born almost 200 years ago on a family farm and is now one of the UK's leading suppliers of a wide range of baking flours.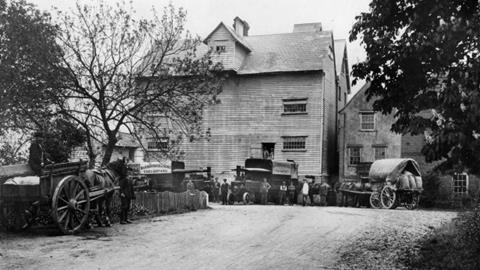 Marriage's Millers was created in 1824 by twin brothers William and Henry Marriage, who were just 17 years old when they inherited their father's mill.
The family had several mills, the main one being Broomfield Mill, in which a steam engine was installed to drive the millstones in 1836.
"We've always had high standards for wheat. We're in a good wheat-growing area, and we have lots of farmers who we've dealt with directly for generations," says company director Hannah Marriage, part of the sixth generation of the family to work in business.
William Marriage's sons Sampson and Phillip, and Henry Marriage's son Henry, joined the business in 1865 and, in 1899, it moved its HQ to Chelmer Mills in Chelmsford, where it remains today.
The site had its own railway siding that allowed coal and grain to be delivered, and flour to be sent to London. The site has seen a number of updates, with electric power installed in 1952 to replace a steam engine, a new feed mill in 1970, and Chelmer Mill remodelled in 1998. It has a bakery on-site so it can work with customers if they want to develop new products or troubleshoot.
Henry Marriage's sons Henry and Llewellyn, and Sampson's son Sampson Percival were the third generation to join the business, while the fourth consisted of brothers Sampson David and Steven, as well as their cousin Henry.
Sampson David championed organic flour, which Marriage's started supplying in 1986, followed by a range of artisan flours in 2012, and the expansion of its home baking flour capacity in 2013.
The fifth generation of the business comprised George Marriage, who has been president of the National Association of British & Irish Millers (Nabim) for the past two years, his brother Peter and their cousin Simon.
George's daughter Hannah became the first woman in the family to join the business when she took on the role of marketing executive, becoming a company director in 2013. The sixth generation is made up of Hannah and her cousins James and Sam.
Recent developments have included a Golden Wholegrain range, made from a wheat variety naturally high in fibre, and an artisan range with spelt, rye and barley flours.
"We want to build on our history, retain our good reputation, quality products and personal customer service," concludes Hannah. "We want to continue responding as the market changes in the future."
Timeline
1824: Business founded by William and Henry Marriage at Broomfield Mill
1891: Modern roller plant is installed at Moulsham Mill by William and Henry's sons
1899: The mill moves to newly built site Chelmer Mills
1952: Electric power is installed
1970: New feed mill built
1986: Organic flour introduced
1998: Chelmer Mill remodelled
2012: An artisan flour range is launched
2013: Home baking flour capacity is expanded