The baking industry's drive to develop healthier NPD hasn't been dampened by the government's decision to delay aspects of the HFSS regulations.
This is partly because, unlike the government, manufacturers can't turn on a sixpence with capex and NPD pipelines decided years in advance – even more so if the two are intrinsically linked and the creation of a particular product requires investment in processing equipment, novel or otherwise.
So far, much of the focus when it comes to healthier NPD has been on ingredient innovation but as Stan Cauvain, director of consultancy BakeTran, explains, this is only part of the solution.
There are opportunities for technology and equipment to play a key role in the development and production of healthier baked goods
"While for many years the baking industry has been offered fat and sugar replacers, they have often not delivered on their own or have not been sufficiently bake-stable," he says, noting that part of the problem is a lack of understanding as to how important texture is to taste.
"Many past examples of fat and sugar replacement through formulation alone have missed the contributions that these ingredients make to the structure of bakery products, and it is only when you take a fundamental look at the requirements for structure that you get an appreciation as to how important process technology is in delivering the required product," Cauvain explains.
Take doughnuts, for example. Many of the expected characteristics are a result of the frying process, which also contributes to the absorption of fat and overall fat content.
"Reformulation of products using the same processes repeatedly will eventually result in a bottleneck, where further unlocking and ingredient development will be too expensive or involve too many compromises on quality to be commercially viable," says Mike Adams, product innovation lead at Campden BRI. "This is also true in products that use what some might consider to be an inherently unhealthy process, such as frying, where reformulation and ingredient technology have little impact.
"As a result, there are opportunities for technology and equipment to play a key role in the development and production of healthier baked goods."
Designer doughnuts
Both Urban Legend and Baker & Baker have grasped these opportunities for the creation of healthier doughnuts by utilising novel processes to reduce the fat, sugar and calories found in them
Urban Legend, the brainchild of former Graze CEO Anthony Fletcher, caused quite the stir when it hit the scene last year. Its doughnuts boast 57% less sugar, 52% less saturated fat and 44% less fat than average doughnuts coming in at around 160 calories per treat. Fletcher partnered with UK scientists, including Dr Chris Holland, senior lecturer in natural materials at Sheffield University, and bakers for the launch. They investigated the use of novel starch and protein technologies which allow the doughs to be 'set' by a beam of steam rather than deep fried.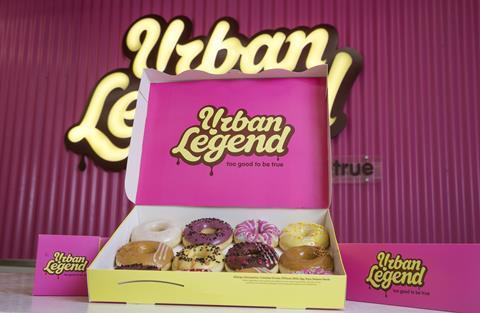 A micro layer of fat is then deposited on the outside of the doughnut, which Urban Legend said retains the taste and texture of a product that has been deep fried with 'barely any saturated fat being added to the product'. To meet consumer expectations for a sweet tasting doughnut, the firm has used what it describes as 'clever natural flavour combinations that enhance sweetness and cue indulgence' and alternatives to sugar discovered in melons, pears, roots, and leaves.
Baker & Baker, meanwhile, has invested in patented Sunfry technology which combines infra-red and sunflower oil resulting in a 37% reduction in sugar compared to the average doughnut as well as a 62% reduction in fat and 27% drop in calorie content to under 150 kcal (for the cocoa variant). "We wanted to maintain the texture and eating quality of a doughnut whilst radically reducing the fat and calorie content," explains Baker & Baker CEO John Lindsay. "We found a combination of frying for a very reduced time period and then having infra-red baking was the best way to do that."
Act early
The potential contribution of processing options should be examined at an early stage with sufficient thought being given to the potential for changes to existing methods or the development of new technologies, according to 'Baking Technology and Nutrition: Towards a Healthier World' by Stan Cauvain and Rosie Clark, which was published in 2019. A likely consequence of modifications to existing product formulations, the book states, is that new products become more 'process sensitive'.
Another option, notes Campden BRI's Mike Adams, is to use existing processing equipment to incorporate more zero or lower calorie ingredients. "Technologies to incorporate water, air and fibre into baked products without changing the product characteristics are important," he says. One such example is the high shear mixing involved in the Chorleywood Bread Process which "enables water to be incorporated into the flour better so that the gluten network is stronger and more able to include materials that damage the textural properties".
Technology vs ingredients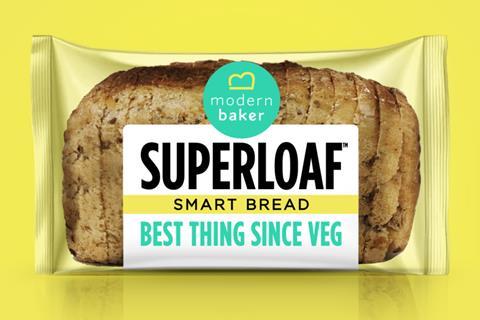 Looking to the future, the industry appears to have mixed feelings on what will drive healthier NPD. "In some ways it is not that 'new' equipment is the key but more a case of choosing the appropriate equipment and understanding how to use it," Cauvain adds. "This will be true of the potential for improving the healthiness of any number of bakery products."
Modern Baker, which unveiled what it described as the healthiest loaf ever in 2021, sought to work with existing processes and instead chose to develop a model gut system that mimics human digestion, blood glucose apparatus and DNA sequencing.
"Six years ago, we concluded our mission for healthier baked goods wouldn't succeed if our goal was to undo the billions of capex already invested in high-speed bread production," says Modern Baker co-founder Leo Campbell. "We chose to focus our R&D into developing platform technologies that improve human biology at cellular level that could work within the current industry. That's now in our sights, as will be seen with the next generation of Superloaf, out shortly."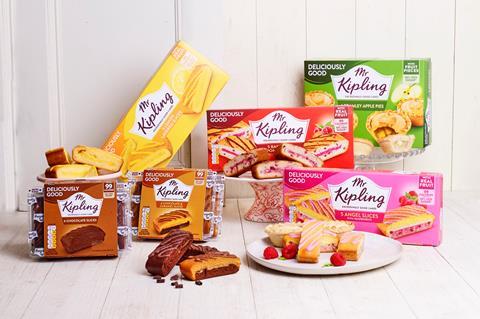 Premier Foods has also unveiled the next generation of Mr Kipling products via a better-for-you range called Deliciously Good. It represents the manufacturer's first full range of non-HFSS branded cakes which includes Angel, Bakewell, and Chocolate slices and Bramley Apple Pies.
"To create Mr Kipling Deliciously Good, we drew on our deep understanding of the functionality of our ingredients, recipes, and baking processes," explains William Bolton, head of R&D for sweet and international at Premier Foods. "But knowledge on its own isn't always enough. The application of technology is also a key factor in the development process," he adds.
Bolton says that a fusion of consumer insight, new and alternative ingredients, and evolving technology will continue to drive Premier Foods' innovation pipeline. "Whether it's adapting existing technology and methods or designing completely new ones, embracing tech is crucial to delivering healthier alternatives that still taste great. Even more so when you consider the scale at which our UK bakeries operate."