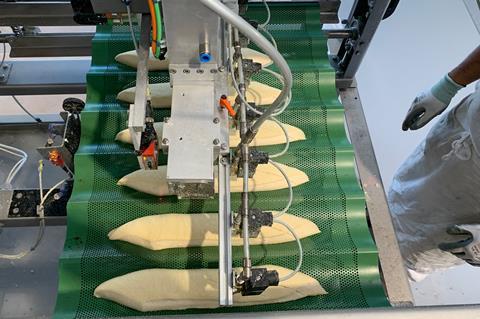 European Process Plant (EPP) has partnered with bakery automation firm Beor to supply scoring products to bakeries in the UK and Ireland.
The deal will see EPP become the exclusive distributor of Beor's dough scoring machinery which uses high pressure water jets rather than blades. This method, according to Barcelona-based Beor, means there is no expense or downtime associated with changing blades with a 'minimal amount' of maintenance. The cut can be adjusted by style to be straight, inclined, or crosswise, while the length, width, depth, height and jet inclination can also be changed.
It added that the technology can be used with standard wheat doughs as well as gluten-free products with hydration levels from 50% to 95%, and on pieces of dough as small as 20g.
"We're pleased to be the exclusive distributor of Beor in the UK and Ireland," said Steve Merritt, managing director of EPP. "Beor's technology complements our existing range of automated solutions and is another fantastic option for bakeries to consider when looking to upgrade existing lines or install new ones. The absence of blades is a great time-saver in terms of the maintenance required as well as costs of cleaning and replacing blades."
Beor's Alberton Bozzola added: "Beor prides itself on innovation and reliability, but also ease of use, which is of great importance for today's bakeries. We look forward to working with the team at EPP to show the benefits of our technology to bakery customers in the territory."