Thanks to our category sponsor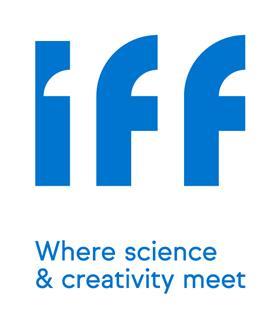 Excellent products and an outstanding consumer experience are among the attributes sought after in the Bakery Retailer of the Year category.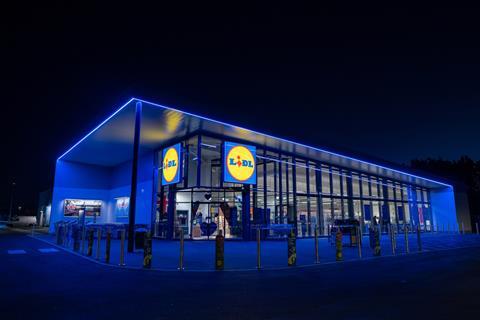 Winner: Lidl
Lidl has three goals when it comes to bakery – surprise and delight customers, lead in freshness, and demonstrate operational excellence. The Baking Industry Awards judges experienced all three first hand. Stores visited as part of the judging process were well stocked, and clean and tidy, and the products bought delivered on quality and value for money, while staff both on the shop floor and as part of Lidl's leadership team were seen to be knowledgeable and passionate about bakery.
Bakery has significantly contributed towards Lidl becoming the UK's sixth largest supermarket, it says, as well as towards its growing and loyal fanbase on social media with the #lidlbakery racking up more than 19m view on TikTok despite it not being active on the platform.
In-store Lidl operates a nationwide bake-off operation with 40 permanently listed lines – including pastel de natas, pizza, topped focaccia, seeded sourdough, and croissants – alongside limited-edition and seasonal specials. Following an 'incredible' response to the Jubilee Muffin, it now rolls out seasonal muffin flavours for key moments in the year. Since judging, it has taken this one step further by rolling out a 'Special Guests' bay to its in-store bakeries, which includes up to four products that change on a monthly basis.
The 'bake in the bag' concept is another notable innovation as it allowed Lidl to introduce meat into its ISB offering for the first time in the form of Bacon & Cheese Turnovers and sausage rolls.
All of this is paying off for the retailer with a 62.5% growth in bake-off, according to Kantar grocery data for the 52 w/e 3 September 2023. As such, its market share for ISB now sits at 12.8%.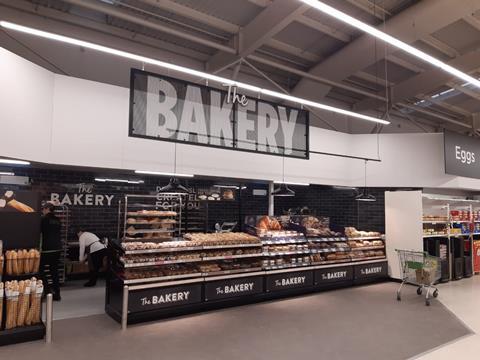 Finalist: Asda
Overhauling its operations has paid off for Asda, which looked to futureproof its in-store bakery business by removing scratch production and moving to a centralised manufacturing model, including bake-off products. This, the retailer said, allows it to deliver on customer expectations of availability throughout the trading day, and ensure consistent quality and freshness.
Asda now operates a bakery business in nearly 600 stores across the UK, with a hot plate business producing fresh pancakes, cakes, and muffins in nearly 400 locations.
This operation included Asda's largest category reset of 2022, which saw it introduce 171 new lines and make quality improvements to a further 182 products. Notable additions included the Extra Special Seeded Sourdough Boule, Extra Special Hazelnut Croissants, and Rainbow Cookies.
A rebrand to 'The Bakery at Asda' accompanied the NPD along with new packaging to highlight key focus areas, such as the Extra Special croissants and bread.
The judges were impressed with Asda's bakery team, both in-store and head office, who were keen to share their knowledge with the panel.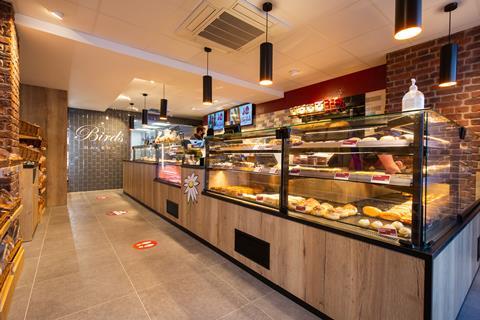 Finalist: Birds Bakery
Birds Bakery is no stranger to the Bakery Retailer of the Year award, having won it in 2021. The family-run firm operates 61 sites across the East Midlands serving customers with baked goods, sweet treats, and savouries made from scratch recipes at its production site.
Over the past year, the business has continued to rebuild from the pandemic, embracing its vision 'to be a trusted brand delivering high quality fresh products daily'. As part of its strategy, Birds strives to maintain four pillars: quality, freshness, local, and family.
NPD has also been a focus as the bakery looks to evolve to deliver for its customers. Notable innovation includes the Baby Elephant's Foot – a miniature version of its iconic cream cake – and a limited-edition salted caramel doughnut. Birds has also made a significant investment in bean to cup coffee machines to increase the quality of its hot drinks offer, as well as buying a new doughnut fryer for its production site and revamping some of its stores.
Passion shone through at every step of the judging, from the presentation by sales and marketing director Mike Holling, to the in-store staff who were "friendly and welcoming".