Thanks to our category sponsor

This category celebrates craft bakeries that are successfully creating new products and marketing initiatives, with well-trained staff and great customer awareness.
Winner: Fisher & Donaldson
The Fife-based family-run firm follows up its finalist place last year by taking home the trophy this time around.
Judges heralded improvements made to the appearance of bakery displays at Fisher & Donaldson shops, with products described as "exceptional" for eating quality and freshness. These include local staples such as Scotch pies, steak bridies, and vegan Scotch pies as well as "proper sourdough and French sticks" said to be thanks to their French baker.
"They have a cult following in their region. You could clearly see people were meeting up there," commented one judge, noting a "warm feeling when you leave".
The fifth-generation members of the family were recognised as custodians for the business and brand, helping lift up standards to achieve crowning glory at the 2023 Baking Industry Awards. Last year, Fisher & Donaldson opened its seventh shop – a standalone café in St Andrews – and expanded its retail partnership with Greens stores across Scotland, which have contributed to a 15% increase in turnover over the past year.
Judges found shop employees to be "happy" and "knowledgeable" during their visit, and were pleased by the company's good staff retention, which includes one member approaching more than 40 years of service.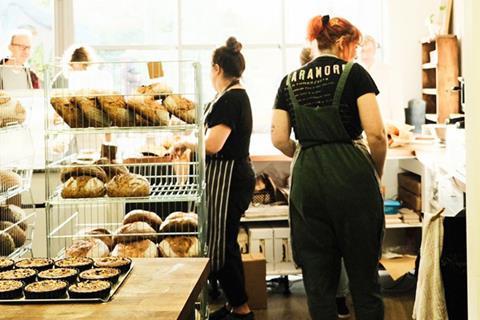 Finalist: 108 The Bakery
This bakery located in Romsey near Southampton was founded in 2018, and has managed to quadruple its turnover since moving to a new town-centre premises in October last year. Its small team of passionate bakers produce sourdough bread from locally stoneground flour, as well as viennoiserie, tarts, cakes, savouries, and sandwiches using local, sustainable and seasonal ingredients. Approximately half of the menu is vegan, said to be a key driver of new customers.
Positive reviews have been given for the bakery's open plan layout, which allows customers a direct view of the staff crafting and baking products from scratch such as the local favourite cruffins and the signature stoneground white sourdough loaf.
With sustainability being a central pillar of the business, the site is powered by 100% renewables, with single-use plastics minimised in operations and composting of waste maximised. 108 The Bakery says it is now focussing on profit rather than growth, trying to develop products that can be made in less time with less electricity.
Judges were impressed by the good farm-to-plate mentality from the business, and with the self-taught staff creating beautiful products including an orange polenta cake they described as "sensational".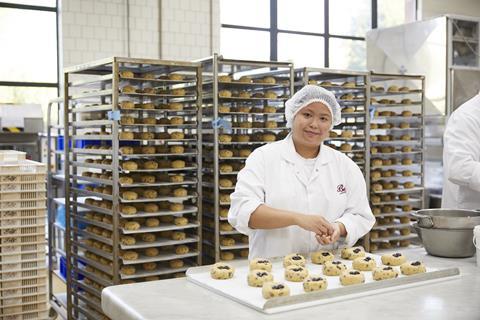 Finalist: Bettys
Another business with over 100 years of history, Bettys is billed as one of Yorkshire's most iconic brands. It currently operates a craft bakery, five café tea rooms, and a cookery school, as well as a thriving online shop, which has doubled in the last year.
Founded by a baker immigrating from Switzerland in 1919, the bakery combines Swiss precision with Yorkshire warmth to deliver a top-notch afternoon tea experience along with sales of handcrafted products including its bestselling range of Fat Rascal scones (700,000 per year).
Bettys has expanded its portfolio with gluten-free, vegetarian and vegan options, and developed a hybrid of manual and automated methods to maintain artisan quality but keep up with demand. It recently launched an Afternoon Tea Gift Box for home delivery and completed a refresh to the Belmont Room of its York branch, which is a Grade II listed building.
Judges lauded the "heritage business" for its first-class branding and packaging, saying it had a lovely ethos and great staff retention.