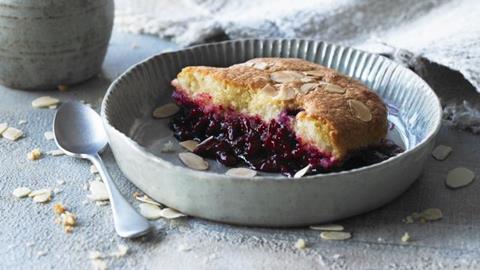 Premium ready-meal brand Charlie Bigham's has unveiled its first-ever range of ready-to-bake puddings, called Proper Puds.
Available exclusively in Waitrose from 5 February, the five-strong range features "much-loved classics", such as sticky toffee pudding and chocolate fondant, with an rsp of £5.50 per item. Each serves between two to four people and is sold in the brand's wooden trays.
The full line-up comprises:
Charlie Bigham's Sticky Toffee Pudding – Classic sticky toffee pudding with a toffee caramel sauce (436g)
Charlie Bigham's Chocolate Fondant – Melt-in-the-middle chocolate fondant, topped with dark Belgian chocolate shards (392g)
Charlie Bigham's Bread & Butter Pudding – Slices of sweet brioche in a vanilla custard, scattered with sherry-soaked raisins and cinnamon sugar (362g)
Charlie Bigham's Sticky Ginger Pudding – Stem ginger sponge pudding, covered in a sticky ginger sauce (426g)
Charlie Bigham's Cherry Bakewell Pudding – Almond and Madagascan vanilla frangipane with a sweet cherry compote, sprinkled with flaked almonds (490g).
They take 15-20 minutes in the oven and feature ingredients that Charlie Bigham's described as being "found in a discerning baker's pantry".
"After receiving hundreds of customer requests for puddings, we realised the scale of consumer appetite for traditional sweet dishes, which not everyone has the time or skills to make just as they should be," said founder Charlie Bigham.
"This is the first time the Bigham's brand has ventured away from the premium ready meals category in almost 25 years, and this is our way of giving shoppers what they need to round off a tasty meal."
The launch will be supported by in-store POS, PR and social activity from February onwards. A Proper Puds version of Charlie Bigham's current advertising campaign, 'Only Delicious Will Do', has been developed by creative partners, Creature.
Brand revenue grew by 18% in 2019, according to Charlie Bigham's, which opened a purpose-built bakery at its London kitchen in October.
It also launched a quartet of full pastry pies that month, having previously only offered pastry-topped ones.