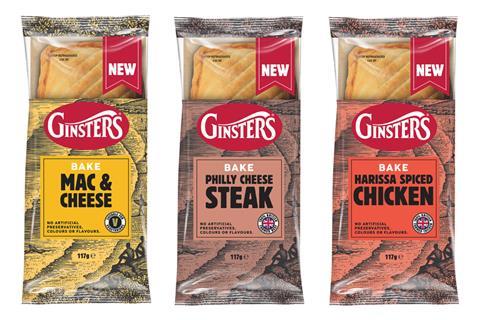 Ginsters has unveiled a four-strong range of bakes inspired by global flavours such as Philly cheese steak and mac & cheese.
Available in UK supermarkets this week, the products are designed to tap into the afternoon snacking market, with a focus on 'pre-family and hurried shoppers' who the firm said have gravitated away from the traditional three meals a day, opting for more snacks instead.
The NPD will 'drive trial and incrementality', Ginsters added, by bringing additional savoury pastry shoppers to the category.
The four-strong range, which has an rsp of £1 for each bake, comprises:
Cajun Spiced Chicken Bake (117g): 100% British chicken in a Cajun style spiced tomato sauce blended with green peppers, black beans, West Country Mature Cheddar with a hint of wholegrain mustard, wrapped in a light puff pastry.
Philly Cheese Steak Bake (117g): 100% British beef in a sauce with mozzarella, mature Cheddar and full fat soft cheese, onion, red and green pepper, and mushroom wrapped in a light puff pastry.
Mac & Cheese Bake (117g): the vegetarian option features macaroni pasta in a West Country Vintage Reserve and mature Cheddar cheese sauce, with a hint of mustard, chives and black pepper wrapped in light puff pastry.
Harissa Spiced Chicken Bake (117g): 100% British chicken in a Harissa style sauce, with chickpeas, peppers, potato, and onion wrapped in light puff pastry.
"The last few years has taught us that consumer tastes and habits are always evolving," explained Ginsters managing director Sam Mitchell.
"The new Ginsters Bakes range taps into yet another growing occasion to broaden appeal with younger, pre-family consumers and provide a pick-me up. Perfectly portioned as a light-bite between mealtimes – whenever that might be – Ginsters Bakes provide more opportunity for retailers to reach shoppers across the day," he added.
World flavours are popular in the savoury pastry category at present. Addo Food Group, for example, recently unveiled a selection of pies and filled flatbreads called Carnival Kitchen which is inspired by international flavours, with Philly cheese steak and jerk chicken among the variants.