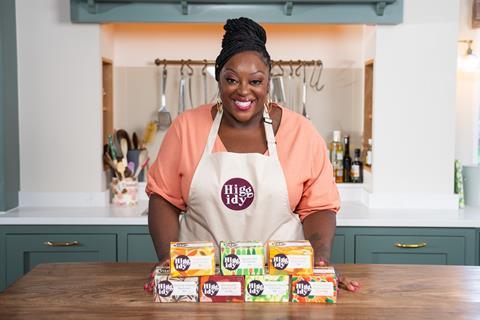 Pastry specialist Higgidy has unveiled two new products and a campaign starring comedian Judi Love for autumn 2023.
A Chicken & Sage Roasted Potato Top Pie (£4.70) and Honey-Roasted Butternut Squash & Sage Veggie Rolls (£3.30, six pack) are the new launches for the season.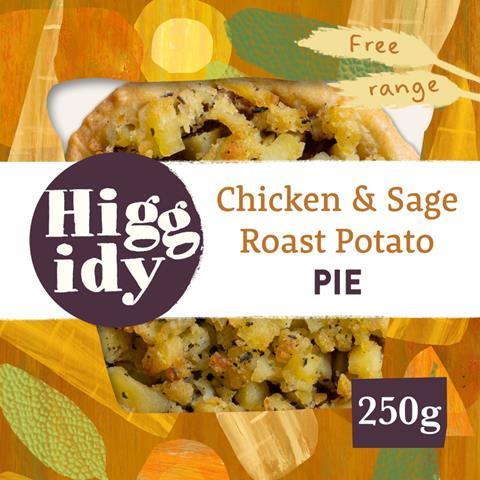 The pie brings all the flavours of a roast together in a pastry-clad package; the shortcrust pastry is filled with British free-range chicken, carrots and parsnips in a roast chicken, sage & white wine gravy, hand-topped with crushed sage-roasted potatoes.
The vegetarian rolls, meanwhile, see all-butter puff pastry filled with honey-roasted butternut squash, parsnip, and carrot, hand-topped with an Emmental and sage sprinkle.
Both products are available in Sainsbury's, Waitrose and Asda stores.
As well as NPD, Higgidy has unveiled a new campaign called 'Dig Into A Higgidy'. It sees comedian and presenter Judi Love team up with Higgidy's culinary chef, Jordan Kerridge, to 'dig into a Higgidy' together, as they explore the brand's pie range. Love will explore the flavours of the Higgidy range and work with Jordan to create a perfect pie of her own too.
The content will be released on both Love and Higgidy's social media channels, giving pie fans the chance to win Love's pie and pick up some top tips too.
"When days start to get colder and darker there's nothing better than a pie and a cup of tea to warm you inside and out," Love commented. "I'm thrilled to be working with Higgidy and can't wait to cook up something special in the kitchen with Jordan and look out for the Judi twists, I'm sure some fiery scotch bonnet will make an appearance."
The campaign will also give consumers the opportunity to win handy Higgidy-branded baking trays, in a series of national and regional media competitions.
It is accompanied by new packaging designed to improve shelf standout and 'dial up taste, quality, and premium cues', Higgidy said.
Higgidy's pie range includes aforementioned Chicken & Sage Roast Potato Pie, as well as Cauliflower Cheese & Broccoli Pie, Porcini & Chestnut Mushroom Pie, Spinach, Feta & Pine Nut Pie, Free Range Chicken & Ham Hock Pie, Roasted Sweet Potato & Feta Pie, Slow Cooked Steak Red Wine & Mushroom Pie, and Steak & Sussex Ale Pie.
Judi Love is the latest star to front a bakery brand's campaign in the last month, joining the likes of Samuel L Jackson who took centre stage in the latest Warburtons advert and Sir Trevor McDonald who appears in a McVitie's campaign called 'There Is Only One'.