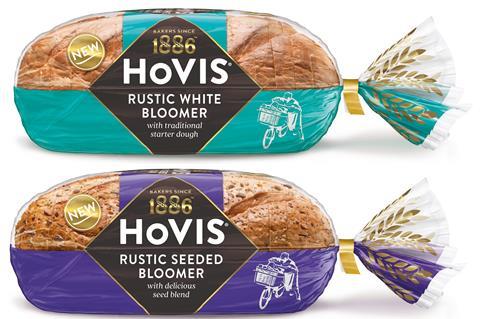 Hovis claims it has taken another step towards redefining the pre-packaged bread market with the launch of premium bloomer loaves.
Rolling out this week with a recommended retail price of £1.90 for a 550g loaf, the Bakers Since 1886 Rustic Bloomers collection comprises a white bloomer and a seeded bloomer, which includes sunflower seeds, poppy seeds, millet seeds, and golden linseed. A granary bloomer is initially launching as a Tesco exclusive, and features cut wheat & rye.
Hovis said the loaves had been developed using traditional sponge and dough methods, and slow fermentation. It noted that the bloomers are baked in shallow trays to give a traditional tapered and rounded shape with thick slices, generous end crusts, and four distinctive diagonal cuts for a "truly artisanal-inspired experience".
Citing NIQ data for the 52 weeks ending 15 July, Hovis stated the pre-packaged bloomers category was worth £49.5m and had grown 11.6% by value year-on-year.
Launches in the bloomers category have included products from Kingsmill in October last year, and a seeded bloomer from Roberts Bakery the year before. Warburtons and Jacksons also sell wrapped bloomer loaves.

"Shopper demand for premium artisanal-inspired products is rising," said Hovis marketing director Claire Parlour. "Through the launch of our Bakers Since 1886 Rustic Bloomers range, we're directly tapping into this growing trend and providing retailers with the perfect products to drive sales in their stores."
"These loaves are more than just bread; they're a testament to our dedication to delivering a truly authentic and more artisanal inspired experience."
The Rustic Bloomers are a very different proposition to the low-priced branded sliced white loaf launched by Hovis nine months ago and targeted at consumers hit by the cost-of-living crisis. The bakery said pricing for the 800g Simple White loaf is at the discretion of retailers – it is currently selling for £1.25 in Tesco.
At the time it launched Simple White, Hovis told British Baker it understands the importance of catering for the wide tastes and budgets of its consumers.
"As the outlook is hard for many at the moment, we have worked tirelessly to be able to offer a new opening price point loaf, delivering great taste at great value, so our consumers don't have to compromise on either," said the bakery.