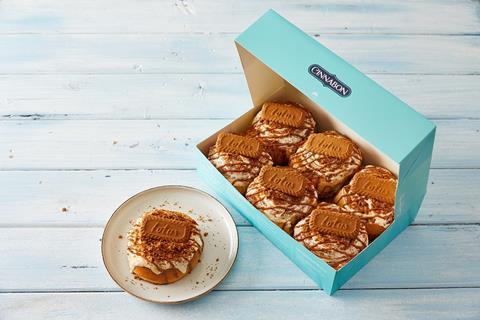 Lotus Bakeries and US bakery giant Cinnabon have joined forces to create a trio of new bakery products for the UK market.
The NPD sees the caramelised flavour of Lotus Biscoff paired with Cinnabon's baked dough. The new additions to the Cinnabon menu are:
Lotus Biscoff Bon – a classic Cinnabon roll topped with frosting, Lotus Biscoff sauce, Lotus Biscoff crumbs and a Lotus Biscoff biscuit
Lotus Biscoff MiniBon – a smaller version of the Lotus Biscoff Bon
Lotus Biscoff BonBites – bitesize bons sold in packs of four drizzled with Lotus Biscoff sauce and finished with Lotus Biscoff crumbs.
The Lotus Biscoff bons will be available at 28 Cinnabon counters across the UK as well as via delivery partners Deliveroo, Just Eat and Uber Eats. Prices start from £3.59 for an individual bon and £2.99 for a MiniBon.
"We love nothing more than working with new partners to bring our customers exciting new creations that provide a whole new Lotus Biscoff taste experience out of home," said Frances Booth, UK category marketing manager at Lotus Bakeries. "We know that combining the on-trend and much-loved flavour of Lotus Biscoff with Cinnabon's iconic cinnamon roll recipe is a winning combination and we can't for our customers to taste this delicious collaboration."
Cinnabon first entered the UK market in 2020 with petrol forecourt giant EG Group as master franchisee which revealed plans to open 150 Cinnabon sites in move that would create 2,000 jobs. Its first store was opened in Blackburn, and it has since expanded its estate to include standalone sites, drive-thru sites, and concessions in Asda stores.
Mohammed Tayab, food & beverage director for Europe at EG Group, added: "We are excited to be partnering with Lotus Bakeries to serve our customers the 'perfect pairing'."