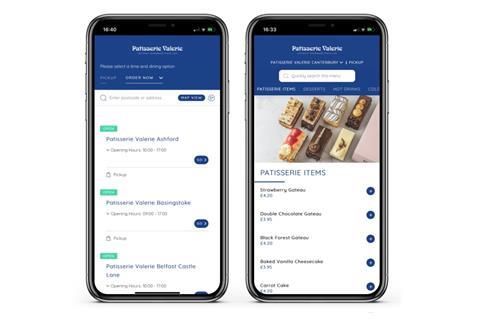 Patisserie Valerie has teamed up with mobile ordering firm Wi5 to launch a click & collect service.
The service allows customers to order items including celebration cakes and coffee from 42 of Patisserie Valerie's UK sites, with plans to roll it out to its entire estate later this year.
Customers can open and browse digital menus, place orders and pay using Apple Pay, Google Pay, credit or debit cards.
Wi5 delivers a mobile experience for customers without the usual app download or unnecessary login process, said the firm.
"Customers are expecting innovators that make their day-to-day lives easier, so we wanted to make it as convenient as possible for them to order and pay for their food and drink," said James Fleming, group CEO at Patisserie Valerie.
The mobile ordering firm invested in design and technology, it added, to bring 'reliable and secure' mobile order and pay software to market.
"We're delighted when a brand as prestigious as Patisserie Valerie chooses Wi5 for mobile order and pay. We're united in our shared vision of the huge role technology will play in reshaping the hospitality industry and look forward to delivering high quality and seamless customer experiences together," said Prask Sutton, CEO of Wi5.
"Wi5 is thoroughly enjoying working closely with the team at Patisserie Valerie and we're already discussing new and innovative ways to bring more and more benefits to the business and its customers."