The UK's biggest supermarkets have unveiled their hot cross bun ranges for Easter 2022 which include savoury, chocolate and dessert-inspired versions.
Asda, Tesco, Waitrose and M&S are among those to unveil their hot cross bun NPD so here we look at the latest ones to hit the scene: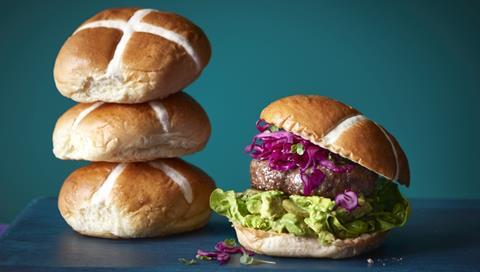 Waitrose
Waitrose has sought to take consumers outside their comfort zones by suggesting a new use for hot cross buns as burger buns. The fruit-free Hot Cross Brioche Rolls (£1.50 per four-pack) are described as 'soft and buttery' which Waitrose says makes them ideal for an Easter brunch or barbecue.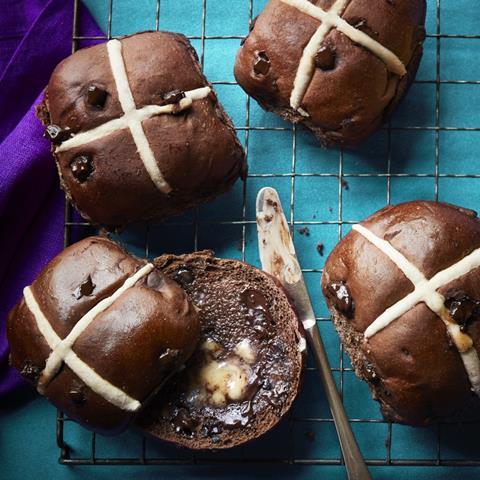 Three new sweet options are also hitting the shelves. The Sticky Toffee option draws from the classic pudding with dates, chunks or caramel toffee and raisins encased in the dough. The Triple Chocolate Hot Cross Buns, meanwhile, are described as a 'chocoholic's dream'.
Waitrose has replaced the dried fruit with chunks of dark and milk Belgian chocolate and added cocoa to the dough for even more of a chocolate hit. Rounding off the sweet trio, which are all priced at £1.65 per pack of four, are White Chocolate & Lemon Hot Cross Buns which feature chunks of white Belgian chocolate and lemon zest for a fruity hit.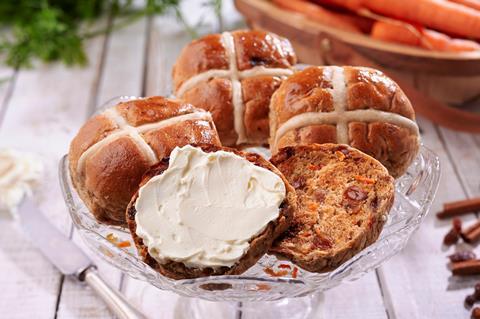 Co-op
Inspiration for Co-op's sweet hot cross buns comes from classic desserts. The Irresistible Carrot Cake Hot Cross Buns, which cost £1.50 per four-pack, are made with sultanas, grated carrot, mixed peel and a sweet spice blend. For true carrot cake vibes, Co-op suggests serving them with cream cheese.
Other sweet options available include Chocolate & Salted Caramel Hot Cross Buns, Richly Fruited ones and Free-From options. The latter is packed with orange-soaked sultanas, currants and raisins with cinnamon, coriander and orange zest.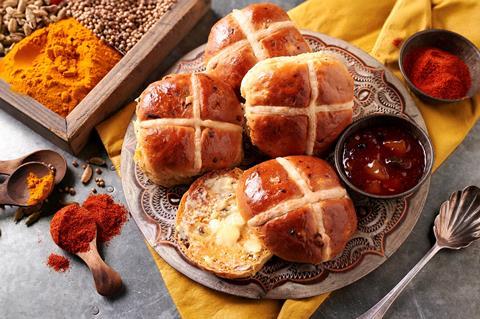 Unlike other retailers, Co-op has opted for something other than cheese for its savoury option instead serving up its Irresistible Masala & Chilli Hot Cross Buns. They're made with caramelised onion, sultanas and a warming blend of jalapenos and spices. There's no cheese in them but Co-op suggests serving these toasted with strong cheese and mango chutney.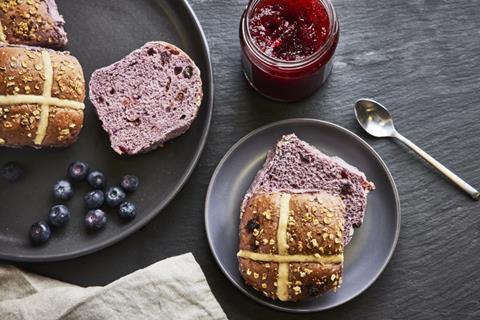 Tesco
Tesco has added several new hot cross buns to its portfolio this year and has also taken the Easter classic into new formats.
First to join the line-up are the Tesco Finest Blueberry Hot Cross Buns which have a 'sweet and tangy blueberry and currant flavour' which accompanies their vibrant purple hue. Priced at £1.50 per four-pack, the purple buns are topped with the traditional cross and rolled oats.
To ensure customers avoiding gluten don't miss out on the fun flavours the UK's biggest supermarket has also added Free From Apple & Cinnamon Hot Cross Buns to its range. Priced at £2 per pack of four, the buns have candied apple and a sprinkling of cinnamon in them.
Salted Caramel & Chocolate Hot Cross Buns, Extra Fruity and St Clements variants are also returning to shelves.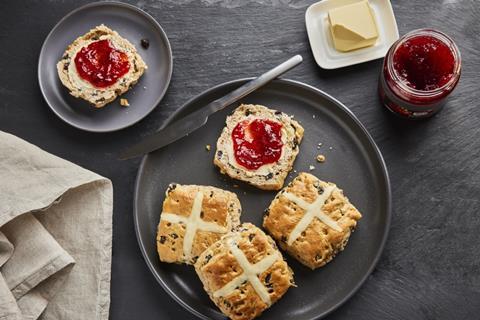 In a surprising new twist, Tesco has created a hot cross bun and scone hybrid. The Tesco Finest Hot Cross Scone (£1 for two) is described as a 'soft and crumbly' scone which is lightly spiced and flavoured with mixed peel and dried sultanas. Another new format is the Finest Hot Cross Bun Bread & Butter Pudding which combines the Easter treat with Madagascan vanilla custard – it costs £4.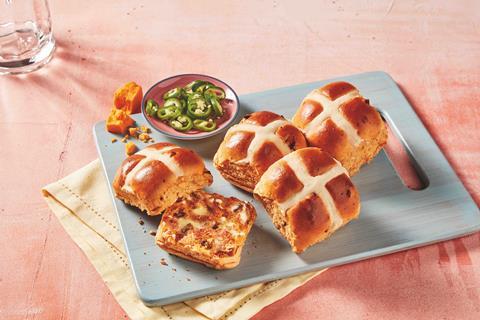 Morrisons
Morrisons is going big with on-trend flavours for the new entrants in its hot cross bun line-up.
The retailer is adding Choc Orange and Cheese & Jalapeno hot cross buns to its Market Street Bakery range. Both cost 69p for a four-pack or £1 for two packs. Apple & Cinnamon and Blondie variants are also being added to the retailer's premium Best range, costing £1 per four-pack.
Lemon drizzle, extra fruity and free-from options are also returning to the shelves.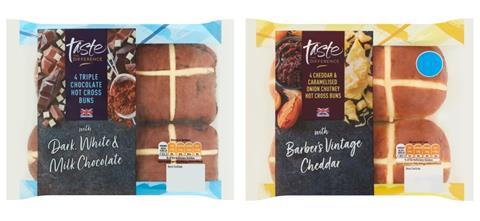 Sainsbury's
­­Sainsbury's is also embracing the savoury side of hot cross buns with Cheddar & Caramelised Onion Chutney Hot Cross Buns. Priced at £1.25 for a four-pack, they feature West Country farmhouse Cheddar made by Barber's in Somerset with a dollop of chutney added for a hint of sweetness.
For something sweeter, Sainsbury's is offering up Triple Chocolate Hot Cross Buns which have a dough enriched with cocoa and three types of chocolate – milk, dark and white. They're also made with sourdough starter which Sainsbury's said gives them a 'uniquely soft pillowy texture'.
Rounding off the retailer's flavoured options are Triple Berry Hot Cross Buns with cranberries, blueberries and lingonberries in.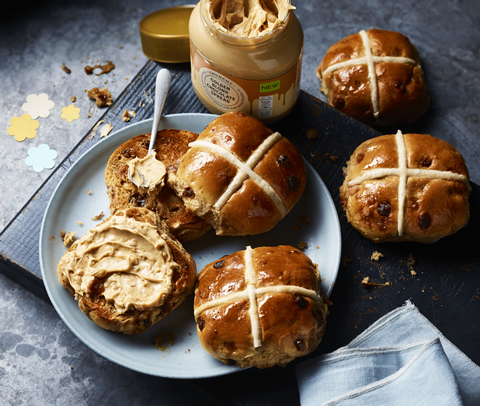 M&S
Blonde chocolate is the flavour of the moment in M&S, first appearing in its Christmas range and now making a play for hot cross buns.
Its Golden Blonde Chocolate & Salted Caramel Hot Cross Buns (£1.65) comprise 'delicately' spiced hot cross buns with golden blonde and milk chocolate, salted caramel fudge and chocolate pieces. The retailer is also serving up a Hot Cross Bun Loaf (£3) which is described as a spiced fruited loaf with rye sourdough, plump dried fruit and candied mixed peel.
For a savoury alternative, M&S is serving up Extremely Cheesy Hot Cross Buns (£1.65) which are loaded with extra mature Barber's farmhouse cheddar and Red Leicester.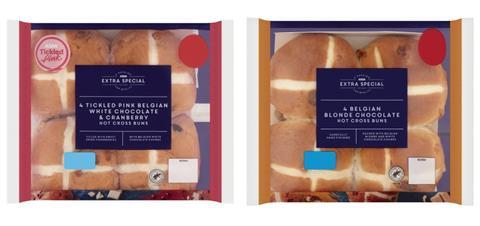 Asda
There's sweet, savoury, vegan-friendly and charitable hot cross buns in Asda's Easter range.
The Extra Special Tickled Pink Belgian White Chocolate & Cranberry Hot Cross Buns (£1.50), which see 10% of sales donated to charity partners Breast Cancer Now and CoppaFeel!, and the Extra Special Belgian Blonde Chocolate Hot Cross Buns (£1.50) have stolen the limelight on social media, Asda said.
It is also claiming to be the first to market with a Vegan Chilli & Cheddar Alternative Hot Cross Bun which is also free from gluten, milk and egg. Other vegan-friendly options include a classic Fruity Hot Cross Bun and Vegan Chocolate Hot Cross Bun.
Other additions to the seasonal line-up include a Tomato & Red Leicester option, Bramley Apple & Cinnamon variant and Belgian Chocolate & Sourdough ones.