Indulgent, warming, and spiced – three words which encapsulate Asda's range for Christmas 2023.
Much of this comes from the retailer's signature flavour for its seasonal line-up, which is brown butter and spiced dark rum. The flavour appears in mince pies, stollen, shortbread, and vol au vents among other dishes.
Black Forest also makes an appearance alongside the likes of chocolate orange, spiced apple, and amaretto.
Dive into Asda's festive range here: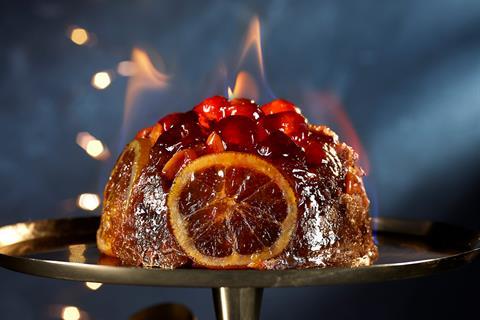 Jewel Topped Christmas Pudding
The traditional star of the show has been given a makeover. Made by pudding specialists at Matthew Walker, this rich and nutty Christmas pudding is made with plump sultanas, orange, and lemon peel with a pinch of spice, mixed with lashings of cider and rum. It's crowned with whole glace cherries, almonds and candied orange slices – all finished with a shot of cognac.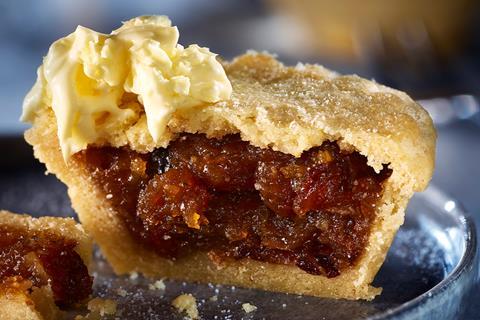 Brown Butter & Spiced Dark Rum Mince Pies
Embracing Asda's signature flavour, these mince pies see pastry enriched with brown butter filled with Jamaican rum-laced vine fruit and citrus peel mincemeat. For a final flourish, they're topped off with a sweet dusting.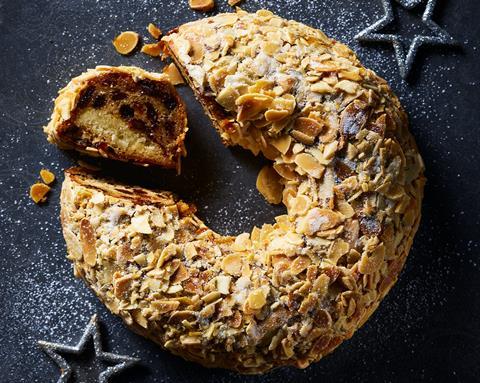 Brown Butter & Spiced Dark Rum Stollen
This stollen wreath also features Asda's signature flavour. It is described as having a beautifully balanced mix of peel, cherries and marzipan, which have been soaked in spiced dark rum. The stollen has been hand dipped twice – once in a spiced rum mix and then in butter. The whole thing is then hand finished with dark roasted almonds and a sweet dusting.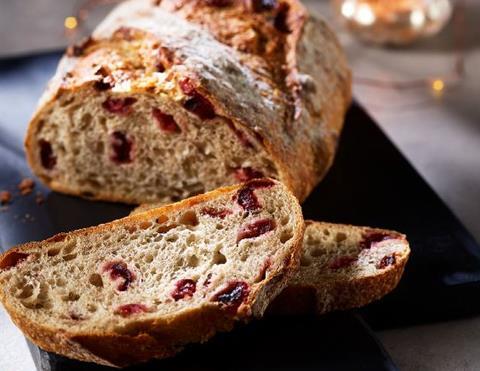 Christmas Sourdough
Part of Asda's Extra Special range, this sourdough has been fermented for 16 hours and finished with cranberries and red onion. The retailer suggests smearing it in its Extra Special Cherry & Amaretto Jam or Mimosa Marmalade for a special seasonal breakfast.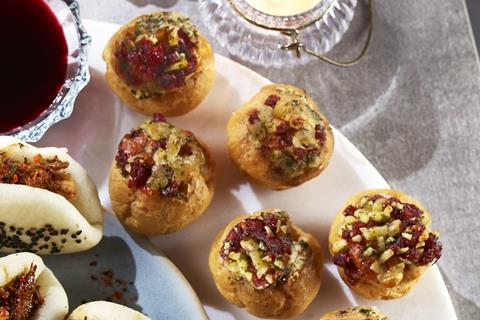 Camembert & Cranberry Savoury Profiteroles
These savoury profiteroles are filled with creamy camembert sauce and topped with a cranberry, Cheddar and parsley crumb for a sweet and crunchy finish.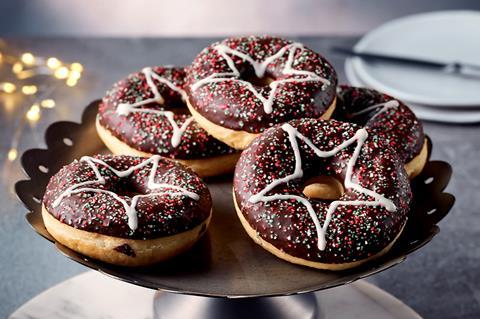 Christmas Doughnuts
Just because it's Christmas doesn't mean people won't be going nuts for doughnuts. Asda is happy to cater with its festive treats which have a milky chocolate centre. The doughnuts are topped with chocolate icing and finished with a star flourish.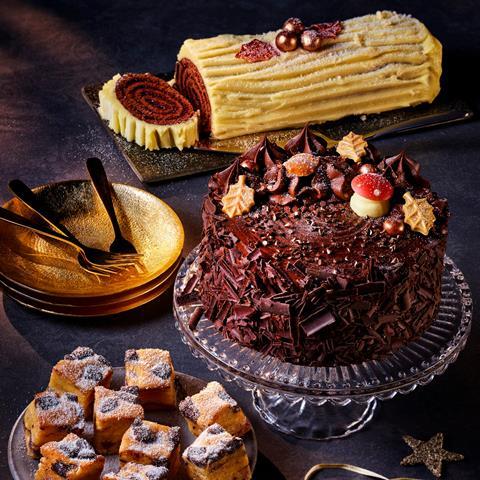 Black Forest Woodland Cake
Black Forest is another heavy hitter in the Asda cake range this Christmas. The Black Forest Woodland Cake – featuring a chocolate butter enriched sponge and filled with a Morello cherry sauce all covered in chocolate ganache – is one of three sweet treats to feature the chocolate and cherry combination. There's also Black Forest Stollen Bites and Black Forest Yule Log. The latter is a hand-rolled chocolate sponge with cherry jam, enrobed in milk and white chocolate ganache.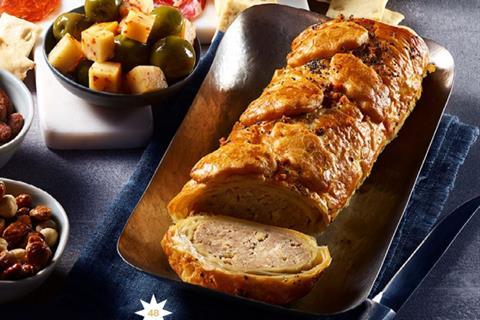 Hog Roast Yule Log
Asda has elevated the sausage roll this year with the creation of its Hog Roast Yule Log. It features seasoned pork sausage meat and Bramley apple sauce wrapped in all-butter pastry to deliver a mix of sweet and umami. It's finished with pastry holly leaves and poppyseed sprinkles.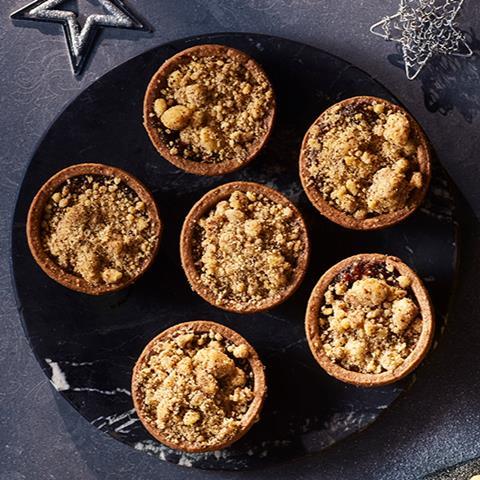 Chocolate & Cherry Crumble Mince Pies
Bringing Black Forest vibes to mince pies, these ones are made with chocolate flavoured all-butter shortcrust pastry and filled with sweet cherry jam and mincemeat topped with chocolate crumble. Vegans won't miss out on mince pie goodness either thanks to Asda's OMV! range. The retailer has added Crumble Topped Mince Pies to the OMV! line-up, which are packed with vegan-friendly mincemeat filling and topped with cinnamon & ginger spiced crumbles for a modern twist on the festive classic.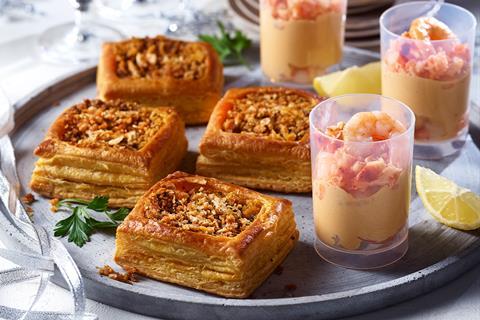 Scallop & King Prawn Vol Au Vents with Brown Butter & Spiced Dark Rum Sauce
The signature flavour makes its way into savoury dishes for a warming sauce, which scallops and king prawns have been cooked in before being placed in puff pastry vol au vent shells.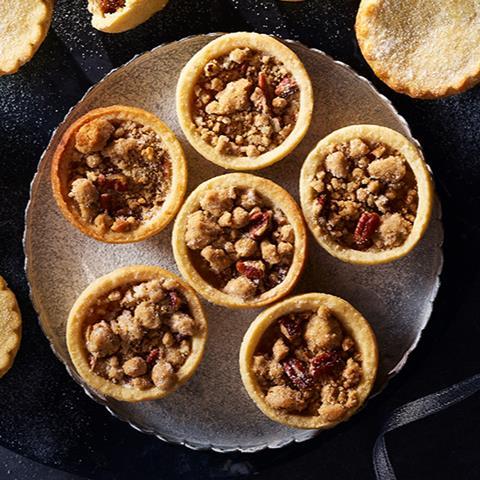 Spiced Crumble Apple Festive Tart
Offering an alternative to mince pies, this tart sees pastry filled with British toffee and sweet apple filling. It's topped with a spiced pecan crumble and sweet cinnamon dusting.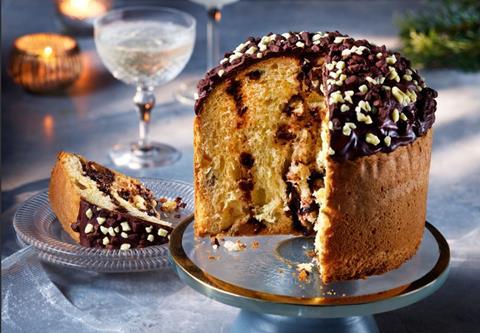 Chocolate & Orange Panettone
Asda's Extra Special Chocolate & Orange Panettone is produced at a second-generation family-run bakery in the Piedmont region of Italy with an all-butter recipe and a mother dough that has been nurtured since 1964. The Italian sweet bread is made with Belgian milk chocolate chunks, candied orange peel and butter, and is injected with chocolate & orange sauce. It's topped with dark chocolate and decorated with milk and dark chocolate flakes.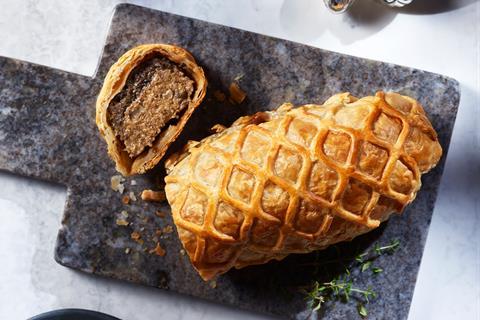 OMV! Oyster & Porcini Mushroom Wellington
This vegan-friendly centrepiece is made with white and oyster mushrooms bound with pea protein. The filling is topped with a rich chestnut and porcini mushroom duxelles and encased in a flaky no butter puff pastry.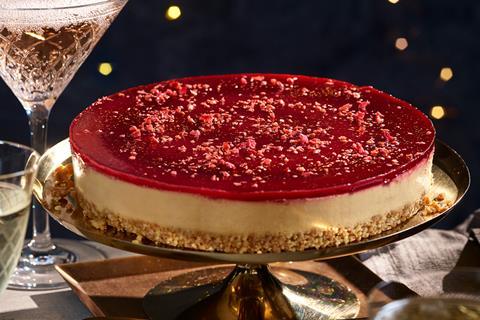 Amaretto & Cherry Cheesecake
A speculoos biscuit base is topped with caramel cheesecake batter and finished with amaretto sauce pockets. The cheesecake is decorated with a cherry glaze, sour cherry pieces, and amber shimmer.