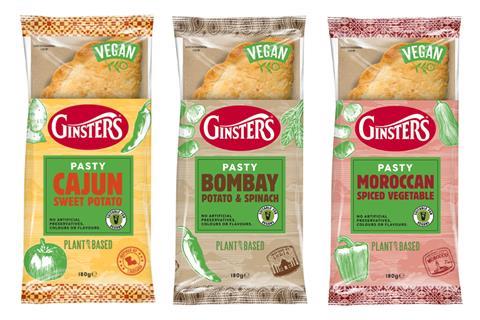 Oggs, Ginsters and Wholey Moly have rolled out vegan-friendly NPD in the form of melt-in-the-middle puddings, pasties and cookies.
Here, we take a closer look at the new launches: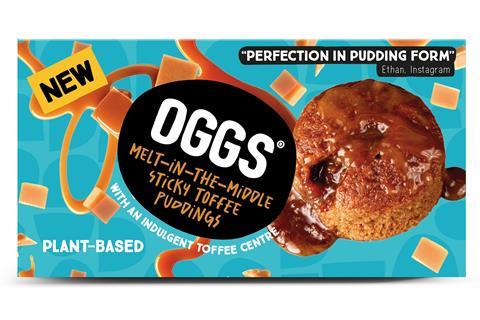 Melt-in-the-middle puddings, Oggs
Vegan bakery brand Oggs has expanded its product range with a duo of melt-in-the-middle puddings.
They're available in sticky toffee and chocolate fudge variants. Both feature fluffy sponge with a melting centre and are made with Oggs Egg Alternative Aquafaba.
"Most people enjoy a sweet treat after dinner, but the search for plant-based options that taste great can still be a challenge," said Oggs founder Hannah Carter. "We are super excited to launch this brand-new product range in time for autumn and ahead of Christmas festivities when finding a great plant-based alternative to Christmas pudding is difficult."
The puddings are available in the chilled dessert aisle in Sainsbury's stores across the UK from 10 October with an rsp of £2.75 per two-pack.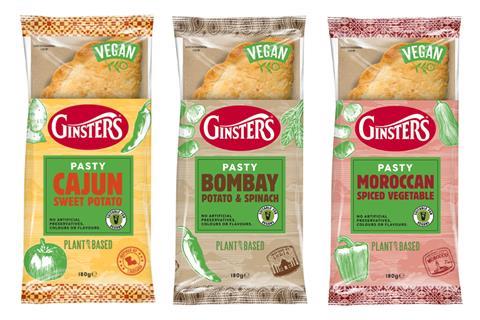 Plant-based pasties, Ginsters
Ginsters is bolstering its range of vegan-friendly products with two new launches.
Kicking off the NPD line-up is the Bombay Potato & Spinach Pasty which sees a blend of Bombay potato and spinach in a spicy chilli sauce with tomato, onion, and garlic, wrapped in puff pastry. It's available 27 September at Co-op, 18 October at Asda and 6 November at Tesco with an rsp of £1.70.
Next up is the Cajun Spiced Sweet Potato & Chickpea Pasty which is filled with sweet potato, chickpeas, red peppers, and onion in a Cajun style tomato sauce. It's available at Asda from 18 October with an rsp of £1.70.
The brand's existing Moroccan Vegetable Pasty will also receive a packaging refresh this September to complete the range. The pasty features butternut squash, chickpeas, apricot, dates and red piquante pepper in a red harissa and Moroccan chermoula sauce, wrapped in a puff pastry.
"We set ourselves a challenge, to change the way people think about meat-free recipes, and our new range is a natural addition to our ongoing pipeline, which has helped us to capture a slice of the plant-based market through awareness, trial and repeat purchase," said Ginsters MD Sam Mitchell.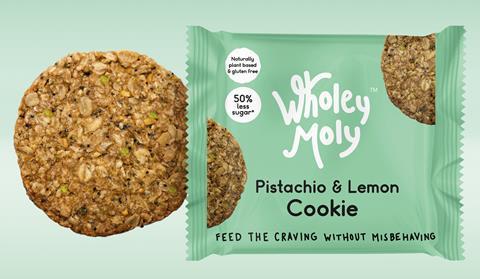 Pistachio & lemon cookies, Wholey Moly
Cookie specialist Wholey Moly has added a pistachio & lemon variant to its portfolio.
Ingredients include gluten-free rolled oats, pistachios, oat flour, cashews, sunflower oil, rice syrup, date syrup, cacao butter, chicory butter and poppy seeds.
Wholey Moly said the biscuits are high in fibre, dairy- and gluten-free and contain 50% less sugar than similar products – the sugar content per 35g treat is 3.8g.
Alongside the new flavour, Wholey Moly founders, and husband and wife team, Meenesh and Parul Mistry revamped the brand's existing recipes to make the cookies 'less crumbly' and softer centred. They also swapped out the cacao in the Orange & Hazelnut Cookie for dark chocolate chips.
"Having already championed hazelnuts, almonds and cashews in our recipes, we wanted to provide a fitting stage for the sublime pistachio to shine, coupled with lemon to provide a discreet yet delightfully citrus twang," said Meenesh.
The brand's offering is available in Sainsbury's and Ocado with an rsp of £1.50-£1.69 per cookie.