Percy Pig and Colin the Caterpillar are decked out in festive garb as part of M&S' Christmas range.
The retailer has gone big on indulgence for 2021 with over-the-top desserts, pimped up party food and stylised savouries all vying for consumers' attention.
It's been sure to tap into the most flavours of the season as well with sticky toffee, chocolate and cheese taking centre stage alongside M&S' signature flavour this year – golden blond chocolate.
"Golden blond chocolate is massive for us this Christmas," said Kathryn Turner, head of product development, confectionery, and gifting. "A recent addition to the chocolate family, it's made by caramelising white chocolate over several hours."
Take a deep dive into M&S' festive bakery range below: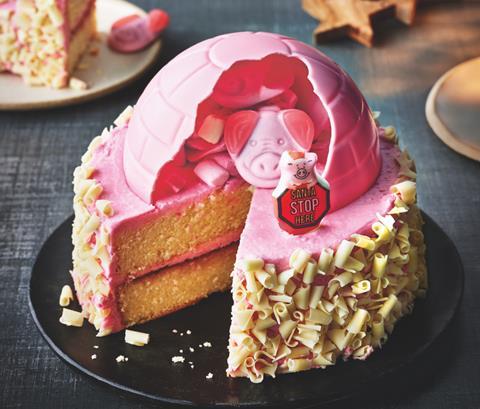 Percy Pig Pigloo
Percy Pig is eyeing a slice of the festive fun. The celebration cake features a Madeira sponge with Percy Pig-flavour buttercream and jam. The edible smash dome hides a plethora of treats including Percy Pig sweets, fudge and mini marshmallows.
Rsp: £15. Available from 30 November.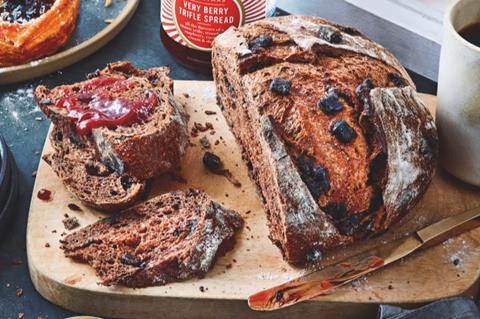 Chocolate Sourdough
Part of M&S' in-store bakery range, the chocolate sourdough is described as 'slow proved' and studded with chunks of chocolate for an indulgent breakfast option.
Rsp: £3. Available from 3 November.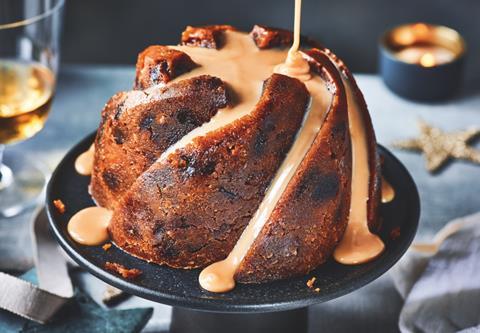 Golden Blonde Chocolate Star Christmas Pudding
Embracing M&S' flavour of the season is this twist on a classic Christmas pudding. It's studded with golden blond chocolate and fudge and enriched with brandy and rum, all finished with a golden blond chocolate and rum sauce.
Rsp: £8. Available now.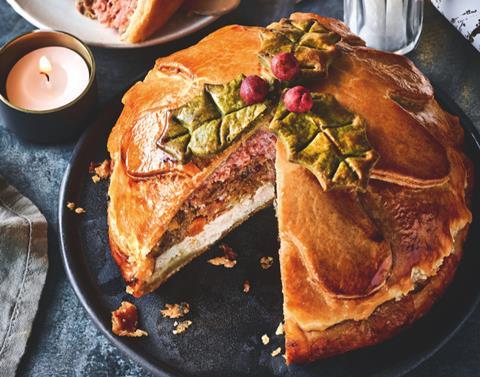 Turkey & Ham Christmas Pudding Pie
Don't be deceived by the name, this pie is all savoury – merely taking its decorative inspiration from the traditional dessert. The all-butter shortcrust pastry pie is filled with layers of British turkey, pulled ham hock and fruity pork stuffing all finished with a pastry holly leaf and icing drizzle.
Rsp: £20. Available from 15 December.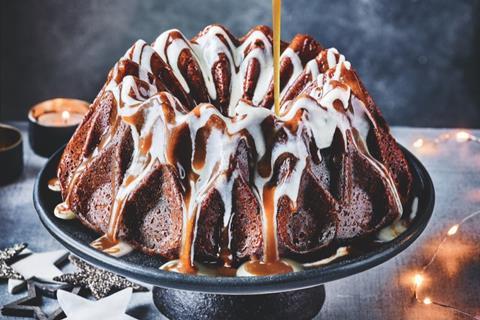 Sticky Toffee Pudding Crown
M&S is pushing the limits of the humble sticky toffee pudding with its latest iteration. The crown is designed to be finished at the table with lashings of salted caramel sauce and a creamy Madagascan vanilla custard.
Rsp: £20. Available from 18 December.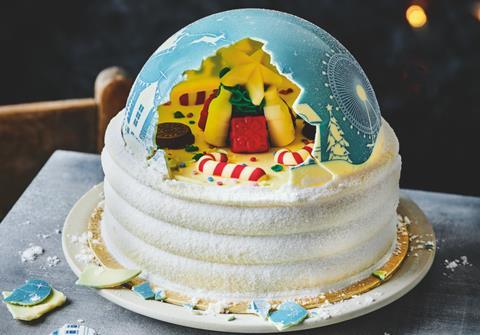 Night Before Christmas Smash Cake
Also embracing the interactivity of a smash cake is the Night Before Christmas Cake. At the core is a Madeira sponge sandwiched with ham and vanilla buttercream. The dome, which features a winter's night scene, can be smashed to reveal a selection of seasonal sweets.
Rsp: £20. Available from 13 December.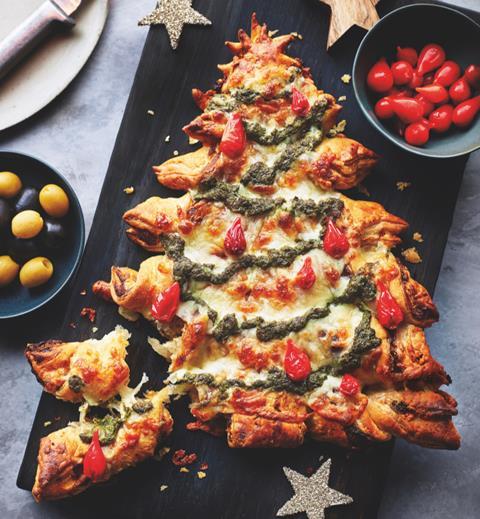 Decorate your own Cheesy Pastry Christmas Tree
Puff pastry Christmas trees have taken the internet by storm in recent years. M&S is offering shoppers a simple way to tap into it with this kit. The puff pastry tree comes with Cheddar, mozzarella, pesto, and sweety-drop peppers allowing consumers to get creative before baking.
Rsp: £8. Available from 15 December.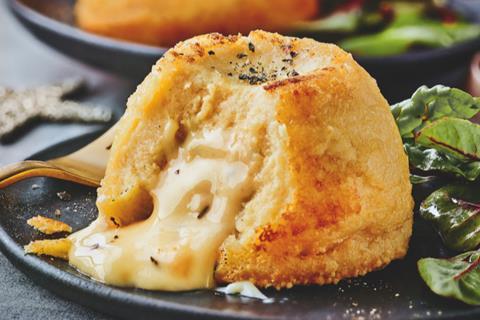 Melt in the Middle Cheese Fondants
M&S is taking the fondant into starter territory with a cheesy alternative to the decadent chocolate pud. The fondants are made with Barber's extra mature cheddar and are described as fluffy textured with oozing cheese centres.
Rsp: £4.50. Available now.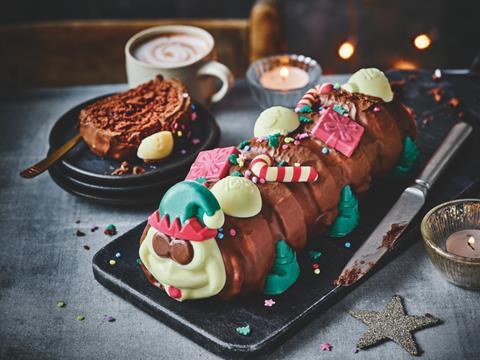 Elf Colin the Caterpillar
Colin is embracing the Christmas spirit with a new outfit. The festive limited edition features the usual chocolate sponge roll with chocolate buttercream and a milk chocolate coating complete with seasonal sprinkles, chocolate presents and candy canes and an elf hat and shoes.
Rsp: £10. Available from 30 November.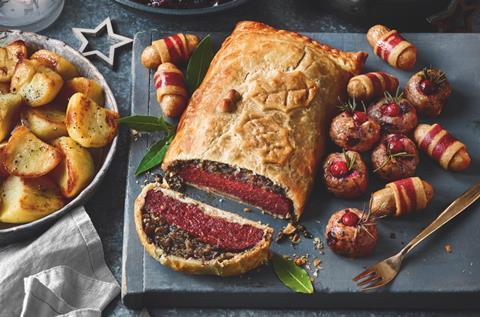 Vegan Beef Wellington
Part of the Plant Kitchen own label range, this vegan-friendly main sees beef replaced with a wheat and pea-based meat alternative topped with a mushroom duxelle all wrapped in puff pastry.
Rsp: £15. Available from 18 December.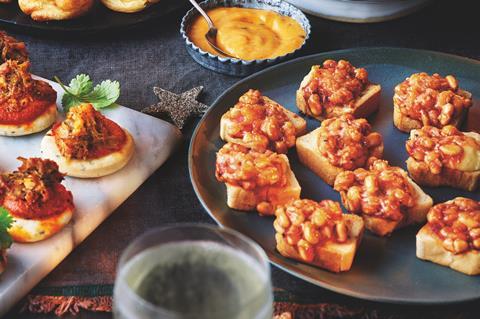 Posh Cheesy Beans on Toast
Beans on toast is one of the more unlikely foods to make a play for the party food scene, but nevertheless M&S believes it has a place there. This bitesize iteration sees brioche topped with haricot beans in a tomato sauce with a Barber's cheese melt all finished with mature Cheddar.
Rsp: £5. Available from 17 November.