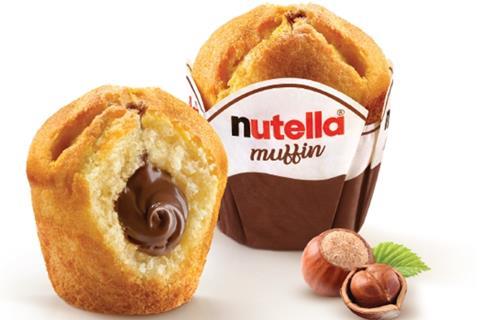 Ferrero Foodservice has unveiled the Nutella Muffin, its first bakery product.
The muffin, intended as a breakfast item or snack, is aimed at operators looking to expand their food to go offering.
The manufacturer describes the product as 'light and fluffy' in texture, with the centre filled with Nutella cocoa hazelnut spread. The muffin is baked, filled and frozen, and can be thawed and served in two hours.
Ferrero believes the product gives retailers an opportunity to capitalise on the popularity of Nutella, citing Nielsen consumer research that showed the spread grew 23.6% in sales last year.
"We've seen a huge rise in consumer appetite for recipes that include Nutella, especially over the last year as home bakers elevated their favourite bakes with our famous spread," said Zareen Deboo, foodservice channel operations manager, Ferrero UK & Ireland.
"In fact, Google has over 2.5k searches for 'Nutella muffin recipes' each month. With that in mind, there has never been a better time for operators to get in on the action."
The Nutella Muffin comes in a recyclable branded paper cup, and each case contains 48 muffins.
"Ferrero is a trusted brand when it comes to quality products, and we're committed to helping operators offer exciting bakery items," added Deboo. "The new Nutella Muffin means consumers don't need to miss out and caterers can meet the need for delicious bakery options out of home."