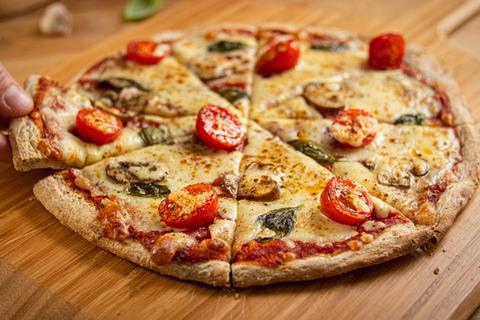 Yorkshire-based Homemade Pizza Club's latest addition to its range, the Salubre, features a base made from spent grains left over from the beer brewing.
According to the Sturdy Foods-owned pizza kit maker, 250 million tonnes of spent grains are produced by Britain's breweries every year, with the majority discarded or used as a cattle feed supplement.
Homemade Pizza Club claims that in addition to reducing waste, using spent grains for the Salubre's base delivers 22% fewer calories than a standard equivalent, as well as double the fibre, 20% less sodium and 14% more protein.
The Salubre, which is available to online customers, is made using spent grains sourced from a Yorkshire brewery, the company said.
"We were inspired to create the new Salubre pizza base to try and solve the problem of balancing consumer desire for delicious products with the need to improve nutritional content and to move to a more circular economy," said James Sturdy, Homemade Pizza Club's founder.
"With the Salubre we have created a product which we believe offers everything people love about eating a pizza whilst making it much healthier. We are delighted to have developed a product that we believe is the future of food in its ability to offer incredible flavour whilst being better for people and the planet," Sturdy added.
The Britain's Best Loaf 2020 winner – a Wild Hops & Barley loaf crafted by Peter Cooks Bread – also utilised spent grains from a local brewery.