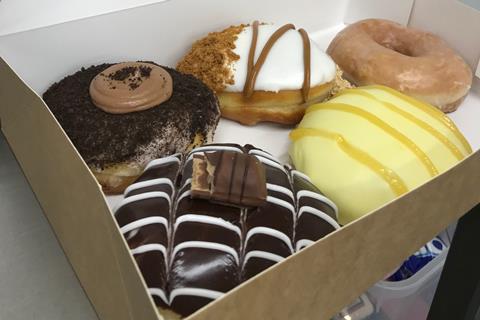 A duo behind an urban axe-throwing business called Hatchet Harry's is branching into the bakery world with a new chain of doughnut stores in Darlington, County Durham.
The first Harry's Handcrafted Donuts shop was opened by business owners Jack Beadle and Richard Bridge late last week in High Row. Beadle turned his attention to doughnuts during lockdown last year when the pair were forced to temporarily close the axe-throwing due to Covid restrictions. From his own kitchen, he created doughnuts and sold them online.
The pair have now set up a commercial kitchen to supply the Darlington store initially with two further sites in Newcastle and Middlesbrough expected to open in the first quarter of 2022. The doughnuts can also be bought for local delivery at a price of £12 for five, plus £3 delivery.
The menu will feature new flavours frequently. Current variants include a classic jam doughnut, glazed apple & cinnamon fritters, a glazed rhubarb & custard one with shortbread crumb on top and a key lime pie doughnut filled with soft meringue and lime curd.
"When Covid restrictions forced me to shut Hatchet Harry's I was pretty bored and was looking for something to do. I was aware of the growing popularity of doughnuts, so decided to set up my own home-made donut delivery business," Beadle explained.
"I quickly discovered there was a real appetite for doughnuts – so we've gone from making them in my kitchen to proper commercial production within just a few months."
If the move proves successful, they hope open other shops across the UK, some of which will share locations with the expanding axe-throwing business. This, Beadle added, meant the units would be utilised throughout the day as axe-throwing tended to be a late afternoon and evening activity.
Harry's Handcrafted Donuts are the latest in a line of smaller players hoping to take a bite out of the doughnut market with Planet Doughnut, Project D and Urban Legend all looking to stake their claim to their market. To find out more about the David vs Goliath story happening in doughnuts, read our latest feature here.