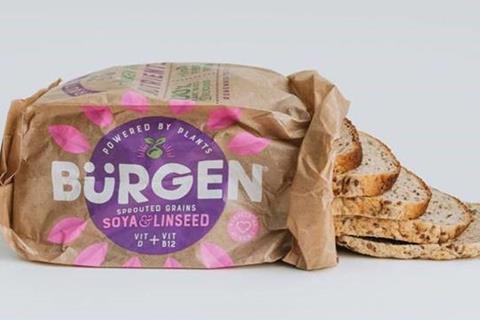 Burgen has added Soya & Linseed and Oat & Quinoa Sprouted Grains loaves to its range.
The new varieties, which Burgen said are sold in 'sustainably sourced recyclable packaging', are now available from Sainsbury's, Nisa and Ocado, priced at £1.50.
The 575g loaves are baked with one quarter sprouted wholegrain flour and provide a source of fibre and protein, as well as vitamins B12 and D, the firm said.
Burgen Soya & Linseed first launched in the UK in 1997 and has since added gluten, wheat, and dairy-free breads to its offering. The brand's expansion with the new loaves represents a further step towards tapping into consumer demand for health-focused bread.
"Our delicious new Burgen Sprouted Grain loaves are designed to deliver in response to the demand for healthier bread that's good for you and better for the planet," said Peda Alabi, Burgen brand owner.
"These new loaves offer sprouted grains, recycle at home paper packaging and a 575g loaf to minimise food waste, allowing consumers to make bread a positive choice one loaf at a time."
Explaining the choice to use sprouted wholegrain flour, Burgen cited the 'changes that take place' when a grain sprouts that 'impact how the grain behaves when milled and used as a flour'.
"These changes can also help make the grains attractive to a healthy-eating crowd," a Burgen spokesperson said.
Sprouted grains have grown in popularity in the bakery market in recent years. Hovis, for example, used them in its Glorious Grains NPD, which was launched last year. For a closer look at the trend, read British Baker's report on how sprouted grains have taken root in baked goods.