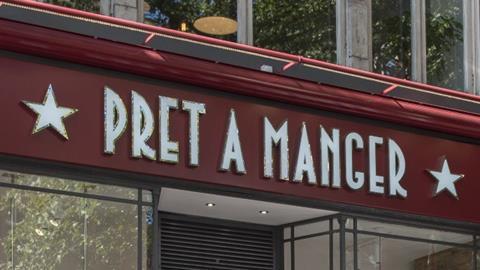 Pret is set to reopen a further 70 shops across the country as of Monday 11 May, taking the total of those operational to over 100.
The company said, following the successful phased opening of 30 shops, it believed it had found a way to reopen further stores safely and in line with government guidance.
The company has introduced a number of safety measures, including Perspex screens at tills, restricting the flow of people into shops and offering face coverings to employees who want them (see the full list below).
Shops will be operating under reduced hours and only open for takeaway or delivery via Deliveroo, Just Eat and UberEats. The menu will also be limited to some of its most popular sandwiches, salads and baguettes, as well as hot and cold drinks, baked goods, fruit and snacks. In addition, Pret will also be selling a range of essential items such as tea bags, coffee and salad.
Unlike the first 10 shops that Pret reopened, which were staffed by volunteers, staff who usually work in these shops have been asked to return. Pret said these employees had undergone a thorough interview to ensure they were fit to return to work and, to ensure the safety of others, those living with anyone vulnerable would not be permitted to do so.
"The Pret experience for both our customers and teams will continue to feel very different," said Pret CEO Pano Christou.
"Gradually reopening our shops also means we can work with more of our homeless charity partners across the UK, getting our unsold food to those who really need it."
Pret's safety and social distancing measures are as follows:
There will be a designated pick-up point for delivery drivers, and separate doors will be used for deliveries and customers wherever possible.
One person in the kitchen will be nominated as a 'kitchen runner' who will get the products needed for each team member doing food preparation, in order to minimise the amount of movement in the kitchen.
There will be limited benches, which have been spaced apart to respect social distancing guidelines.
Restrictions will be put in place which will allow only one person in certain areas of the kitchen at any one time – for example, fridges or staff rooms.
Enhanced cleaning processes, including 30-minute sanitising of all hand-contact surfaces.
Protective Perspex screens will be fitted to the till counter.
Team members and baristas will be distanced behind the till counter.
Face coverings will be provided to those team members who would prefer to wear one, though there is no government requirement for them to do so.
Only card payments will be allowed, no cash will be accepted.
Customer flow into the shop will be restricted, with the number of people allowed inside at any one time based on the square footage of the shop.
Customers will queue outside the shop at two metres apart from each other, with clear markings for queuing.
For reference, the BEIS' [Dept for Business, Energy and Industrial Strategy's] guidance on social distancing in the workplace is here, which Pret will be adhering to.