With a troublesome trio of input price increases, staff shortages and a skills gap all hitting the baking industry, improving efficiency is everyone's goal.
Enter the test kitchen, where bakers of all descriptions can get to grips with new machinery or test new products in an optimum environment, and it seems a lot more besides. So, what is that optimum environment? What are the must-haves for the modern test bakery? And what are the key roles that this type of facility plays?
There are really no boundaries to what a test bakery's purposes can be; it all depends on the host company or the customer's priorities – they may be a bakery mix supplier or a cake company or anything in between. There are some common denominators, however.
"Often, customers come to the Brook Food test bakery with an idea, and we help guide them through the whole manufacturing journey or part of it ," comments Ann Wells, commercial director at Brook Food & Bakery Equipment.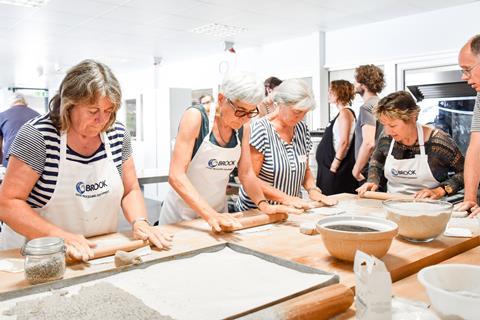 Sometimes this is about a manufacturing process and requires equipment, and sometimes it is about working with the customer to help them understand what their new workflow might require.
Working out how to scale up production is also done more conveniently at a test bakery. Often, it is about understanding how a customer can make thousands not hundreds of a product and maintain the integrity and quality of product in doing so.
Time spent at the test kitchens will ultimately save stress and improve efficiency on site
A test bakery will be supported by specialists who can help customers make informed decisions on both product and equipment. Experimenting at a test bakery can help a customer discover how a machine will handle a new product before they commit to it or the equipment required to make it.
Test facilities give product technologists and project engineers the confidence that equipment will achieve the finished product quality they are searching for, explains Steve Merritt, MD at European Process Plant (EPP). This minimises risk when implementing new processes or recipes.
Wholesaler Bako finds its test bakery in Preston instrumental in many ways, explains Bako technical baker Claire Powell. It is used for testing the Bako Select range, including random quality checks to give both Bako and customers peace of mind. The facility is also used for new product development, creating updated recipe ideas, seasonal ideas and innovation.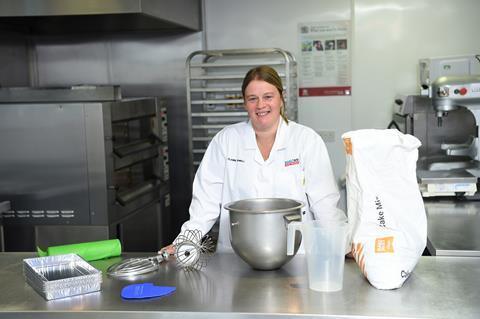 "It also comes in handy for video shoots and photography," adds Powell. "We filmed the Bakovers seen on our website in the test bakery, while photography is also used in our In the Mix publication and for internal product training."
The test bakery facilities are used to make samples in small quantities for customer presentations, exhibitions and roadshows. And the site is also invaluable for customer visits and seasonal presentations, Powell says. "We can invite our customers along to the bakery and let them see what a great range of product we have to offer. With most of the Bako portfolio being ingredients and bake-off products, the test bakery is essential for putting these together to make a finished product."
Equipment supplier Jestic Foodservice Solutions also uses its test bakeries for customer visits. "Bakery equipment is key to the smooth running of a bakery, allowing bakers to create products perfectly and consistently when the right model is selected. With such a wide variety of options to choose from, we always encourage bakers to take advantage of menu development and testing sessions," says Richard Norman, national account manager, specification & projects at Jestic.
Saving on stress
The Jestic team works with a range of customers, testing recipes in its range of bakery equipment. "Time spent at the test kitchens will ultimately save stress and improve efficiency on site," says Norman.
Ingredients supplier Zeelandia UK is now offering training and internships at its technical centre in Colchester, Essex, after a lull during the pandemic. It works with charitable organisations and two of the UK's bakery schools, the National Bakery School and University College Birmingham.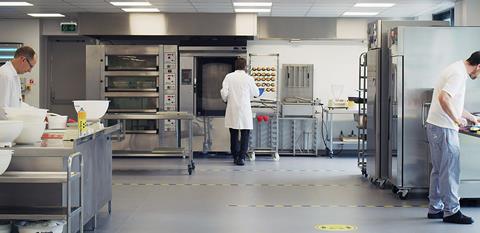 With so many plus sides to having a test bakery, there are some key considerations for anyone planning to set one up in their business, advises Ann Wells at Brook Food.The first is budget. A clear budget and being smart about which equipment to choose is essential.
Electrical supply is another consideration. Ideally, every test bakery would have a three-phase commercial electrical supply. If only single-phase supply is possible, it's important to understand what size that supply is so the right equipment is purchased to suit the site.
Access needs to be considered when installing new equipment. Not all buildings offer ideal conditions for large deliveries – roller shutter doors, level ground access, turning and craning space. Brook Food operates a variety of trucks in its delivery fleet, allowing it to deliver along narrow roads to sites with height restrictions and tight parking spaces, says Wells.
The most important factor is choosing equipment for the test kitchen that can accurately replicate factory processes at small scale
The test bakery process must also offer a range of equipment of appropriate scale that will reliably replicate the automated process, comments Merritt at EPP. This requires upstream and downstream equipment so good representation of the full process and finished product can be achieved. For example, mixers, provers and ovens are required to demonstrate the whole baking process associated with a moulding or forming system. Or perhaps a good quality blast freezer or chiller for par-baked products. The system must allow the full process to be completed, from mixing through to finished product.
Reception and storage of customer ingredients, segregated from other customers' storage, needs to be available as does a holding area for finished products, he suggests. A meeting room to allow discussions and reviewing results and products is also required.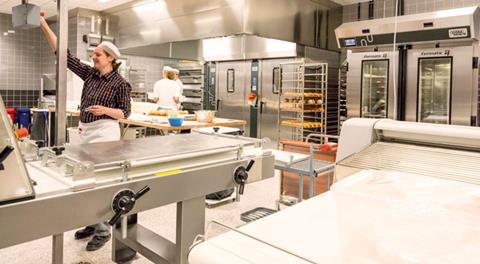 Comparable equipment
In the initial stages of product development, not much equipment is needed in a test bakery. One consideration is ensuring that machinery is comparable to the production line at the main facility, says Wells. This is to ensure NPD teams are not faced with further issues in terms of manufacturing differences, she adds.
"Test bakeries can be as basic or well-equipped as you desire," says Bako's Powell. "The main consideration is that they accurately reflect the wider business. "
Bako's test bakery has ovens with a prover underneath. There is a tabletop mixer, small convection oven, microwave, tables with storage underneath, sinks, display area, seating area, presentation area and a big storage cupboard. Items such as packaging, paper cases, piping bags, traybake foils, muffin tins and loaf cake tins are also kept on hand.
"The most important factor is choosing equipment for the test kitchen that can accurately replicate factory processes at small scale," believes James Fitch, bakery sales manager at Reiser UK. "Our Vemag HP1 has modular attachments designed for small-scale production which can replicate factory processes. We also supply Seydelmann Bowlcutters as a 20L version, commonly found in test kitchens in other parts of the food industry."
When it comes to test bakeries, there is no one size fits all. While one might focus on allowing bakers to run an existing dough through a new machine to calculate how the production process compares, another may be geared towards scaling up experimental NPD ideas. The common ground is that everyone who enters a test bakery should leave wiser, happier and more efficient.