Tesco has become one of the first major retailers to reveal what's in its Christmas stocking this year, including a host of sweet and savoury new bakery products.
When it comes to flavours, Tesco has opted to celebrate with fan favourites such as Black Forest, chocolate, salted caramel, and on-trend speculoos.
The UK's largest supermarket has also gone big on vegan options this year with several new additions to its Wicked Kitchen and Plant Chef ranges, including portobello mushroom wellingtons, beet & horseradish pastry parcels and spiced rum Christmas pudding.
Here, we've rounded up some of the notable new products hitting shelves in time for Christmas: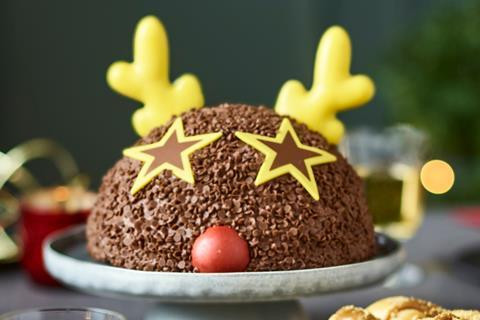 Party Rudolph Chocolate Cake
Step into Christmas with Rudolph! This celebration cake features a chocolate sponge cake topped with chocolate frosting and hand decorated with edible antlers, nose, and sugar paste eyes. It builds on the trend for simple kawaii-style unicorn cakes made popular a few years ago.
Rsp: £10 (serves 12 people). Available week commencing 22 November 2021.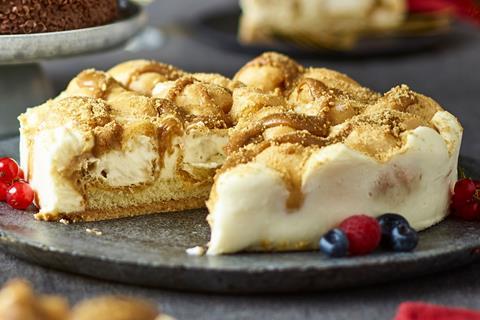 Speculoos Profiterole Gateau
Building on the trend for indulgent hybrid desserts is this gateau which combines classic profiteroles with the on-trend biscuits. The pudding sees a speculoos-flavoured sponge cake layered with speculoos sauce, topped with profiteroles and crushed biscuits for a crunchy finish.
Rsp: £4 (serves 12 people). Available week commencing 1 November 2021.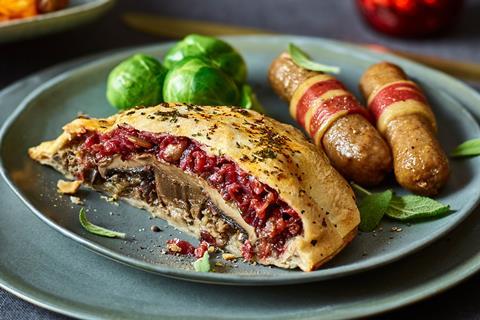 Portobello Mushroom Wellington
This vegan main is part of Tesco's Plant Chef range. It features a whole portobello mushroom with a rich soya and mushroom duxelles, nestled in plant-based pastry, and topped with a beetroot & cranberry stuffing. It's handcrafted and garnished with paprika and parsley. Also joining the Plant Chef range are the Festive Parcels with Beet Sauce & Horseradish Crumb.
Rsp: £6 (per two-pack). Available week commencing 25 October 2021.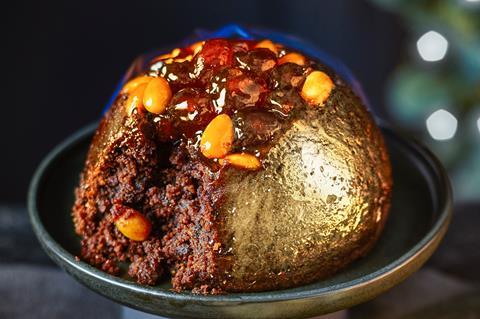 Black Forest Christmas Pudding
Festive favourites meet timeless classics in this Tesco Finest twist on a Christmas pudding. The pudding is packed with vine fruits, Belgian chocolate chunks and purple glacé cherries. It's finished with a shot of kirsch for a boozy hit and topped with whole natural red glacé cherries and crunchy blanched almonds before being coated in a golden syrup sauce.
Rsp: £10 (serves eight people). Available week commencing 27 September 2021.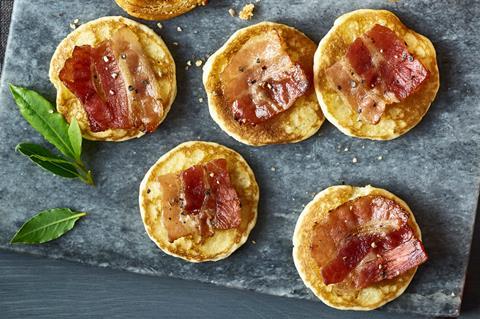 Buttermilk Pancakes and Bacon
The American brunch classic is staking a claim on British party platters thanks to Tesco's latest addition to its Finest range. There's 10 'light and fluffy' buttermilk pancakes topped with British streaky maple bacon for a sweet and savoury combination.
Rsp: £5. Available week commencing 11 October 2021.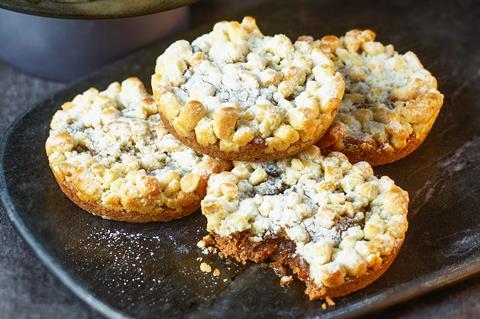 Crumble Topped Mince Pies
Offering a twist on the Christmas classic are Tesco's Crumble Topped Mince Pies with Salted Caramel & Festive Spice. The filling combines fruity mincemeat with a salted caramel sauce topped with a buttery crumble and dusting of icing sugar.
Rsp: £3 per four-pack. Available week commencing 27 September 2021.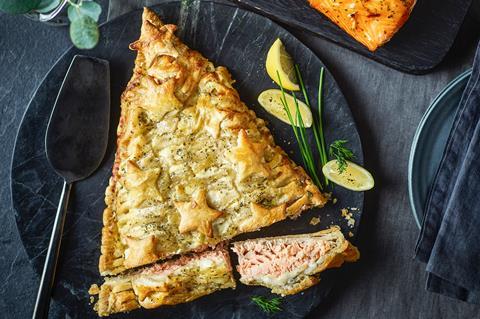 Christmas Tree Scottish Salmon Wellington
This Christmas tree-shaped centrepiece sees Scottish salmon paired with a white wine and lemon sauce wrapped in a golden puff pastry and decorated with pastry stars.
Rsp: £14 (serves four people). Available week commencing 13 December 2021.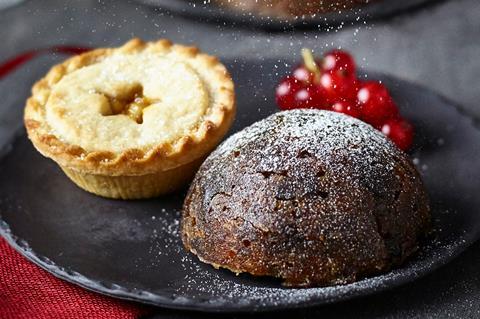 Wicked Kitchen Spiced Rum Christmas Pudding
This vegan-friendly version of the festive favourite is lightly spiced with cinnamon and ginger. The single-serve pudding is filled with vine fruits, golden spiced rum, whole blonde glacé cherries, and split almonds. It's finished with an extra shot of golden spiced rum.
Rsp: £1.50. Available week commencing 27 September 2021.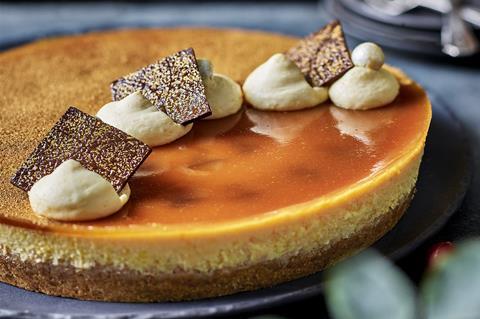 Caramel & Orange Torte
This baked cheesecake represents a fruity yet spiced option for the holiday season. The base is made of festive spiced biscuit crumbs topped with an orange cheesecake studded with caramel sauce. Described as sweet and almost burnt, the caramel is also featured in the glaze and mousse on top while the chocolate covered biscuit adds some crunch.
Rsp: £8 (serves 10 people). Available week commencing 18 December 2021.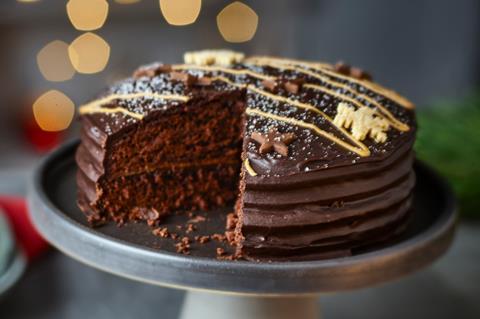 Wicked Kitchen Chocolate & Salted Caramel Cake
Tesco is aiming for vegan-friendly indulgence with this celebration cake. The vegan chocolate caramel cake features beetroot and is filled with a Belgian chocolate frosting. It's topped with sea salted caramel sauce, Belgian chocolate frosting and decorated with delicate sugar work.
Rsp: £7 (serves eight people). Available week commencing 27 September 2021.