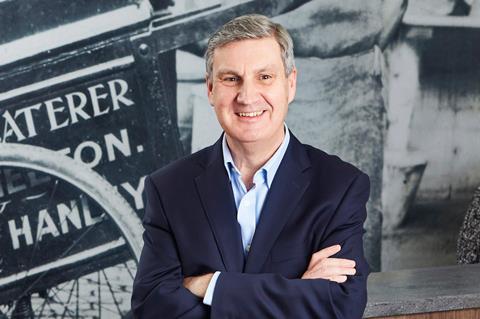 Wrights Food Group managing director Ian Dobbie and EPP's Steve Merritt are among the speakers set to impart their knowledge at the British Society of Baking's (BSB) spring conference.
Taking place on Wednesday 6 April at Tythe Barn in Bicester, Oxfordshire, the event explores the theme 'Moving business on' and comes after a two-year absence due to the pandemic. Topics to be discussed include business growth, leadership, automation, and food safety.
Dobbie, who joined the pie specialist in early 2021, will take attendees through the part he has played in expanding the business' customer base as well as its recent sale to Compleat.
EPP managing director Steve Merritt, meanwhile, will be on hand to tackle the topic of 'Are bakeries heading towards full automation?'. Merritt will explore how bakers move their businesses on, whether investment really does pay and whether robots can truly replace the skills of bakers.
A session called 'Practice essential skills: motivation, leadership, growth' will see former Allied Bakeries CEO David Garman take to the stage. Now a leading management advisor, Garman will reveal the essential dos and don'ts of management to move a business forward.
Campden BRI's Phil Voysey will also be sharing his knowledge on microbiological food safety challenges, with a particular focus on combatting mould and extending shelf life.
Baking Industry Awards winners feature heavily in the line-up. In a session called 'What do today's young bakers need?', Megan Roberts of AB Mauri and William Leet of David Wood Baking – who won the Rising Star Award in 2020 and 2021, respectively – will discuss the ways businesses need to connect with young people if they are to recruit the best and brightest, plus what the next generation are looking for from a career in the industry.
Talia and Sean Sarafilovic from Stephens Bakery in Scotland, which won the Craft Bakery Business Award at the 2021 Baking Industry Awards, will discuss how the next generation of the family firm are moving things on with regards to business development and training, as well as how to keep the craft skills in an era of increasing automation.
Tickets for the conference are available from the BSB's website at a cost of £160 for members and £180 for non-members.
BSB Golf Day
The annual BSB Golf Day is also set to return after a two-year absence.
The fundraising event takes place on Tuesday 31 May 2022 at the Forest of Arden Golf & Country Club, Meriden, Warwickshire.
The day costs £138 per person which includes coffee and bacon rolls on arrival, a token for the driving range, 18 holes of golf over the Arden championship golf course in the familiar shotgun start at 12.30. Afterwards there's a three-course dinner followed by the prize giving ceremony. Non-golfers are also welcomed to join at a cost of £45 per person.
The plan two years ago was to celebrates 30 continuous years of the event with a special prize to celebrate this achievement, this will now continue at this year's event.