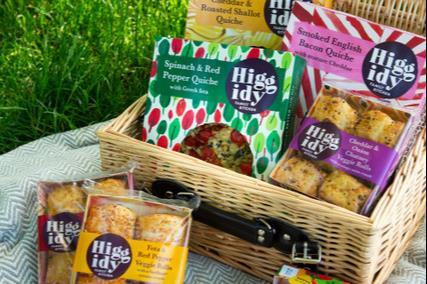 Pastry brand Higgidy has announced £10m plans to expand its Shoreham-by-Sea facility after Samworth Brothers increased its stake in the business.
The planned investment in 'The Higgidy Village' will be used to purchase new equipment, expand the footprint of the site and upgrade the current office and shared spaces.
Higgidy also plans to double the size of its business in the next five years. According to the brand, the initial stage of capital investment will unlock capacity that will take the brand close to £66m in retail sales value. Currently, 72% of Higgidy's food range is vegetarian or vegan and there are plans to increase this to 75% by the end of this year.
In the last 18 months the brand has unveiled a raft of NPD including a vegan quiche and food-to-go slices. According to Higgidy, its savoury muffins are now worth £2.4m in retail sales value following their launch 21 months ago.
Brand awareness has also been the subject of investment, with Higgidy embarking on its first ever paid media campaign in October 2021 following the launch of branded fixtures in Sainsbury's stores last summer.
Samworth Brothers, which owns various food brands including Ginsters and Soreen, first acquired a minority interest in Higgidy in June 2019 before announcing an increase in its stake of the business last year which made it the majority shareholder.
"Higgidy's positioning means they are extremely well placed to meet consumer trends," said Flor Healy, the outgoing CEO of Samworth Brothers.
Mike Campbell, chair of Higgidy, said the brand was "very proud" to be part of the Samworth family.
"The Higgidy leadership team have created a compelling strategy for the next five years and the investment and support from Samworth Brothers means we can continue to build a strong culture, whilst keeping our entrepreneurial roots intact," Campbell added.