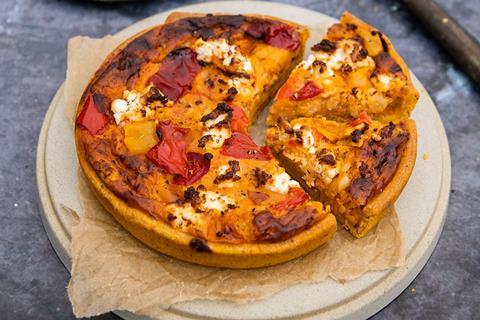 Pastry specialist Higgidy has unveiled seven additions to its range of vegetarian and vegan products.
The NPD includes two quiches, Mediterranean Pepper & Feta and Garden Greens & Ricotta (400g, rsp £4.40), made with lower-fat pastry produced by mashing, mixing and pureeing sweet potato, carrot and butternut squash. The duo is currently available in Sainsbury's and launching into Waitrose from 6 April.
Also new to Higgidy's range is Petit Pois & Courgette (155g, rsp £2.60), the brand's second Little Vegan Quiche, featuring a seeded shortcrust pastry and a hint of mint and chilli. The product will be available from Waitrose and Tesco from 11 April.
Rounding off the quiche line-up is the Petit Pois & Whipped Feta (400g, rsp £4.25), a 'special guest' edition for the summer featuring mint, courgette, ricotta and toasted pumpkin seeds, available from Sainsbury's and Waitrose from 27 April.
The brand's new Roasted Chickpea Masala Vegan Pie (rsp £4), which will go on sale from 6 April via Waitrose, Ocado and Sainsbury's, is an Indian-inspired, layered curry creation, aiming to provide a 'combination of spiciness and creaminess'.
Completing the range of new Higgidy products are two vegetarian slices (rsp £2.40), which will roll out from 25 April in Waitrose and Sainsbury's. The Spinach, Feta & Red Pepper Slice adds crème fraiche to the ingredients wrapped in puff pastry and hand-sprinkled with a sun blushed pepper cheddar crumb. The Sweet Potato Katsu Curry Slice, meanwhile, features mildly spiced sauce and a turmeric crumb topping.
The introduction of the new products will help the brand hit its target of 75% vegetarian and vegan products by the end of 2022, the company said. Before the new launches, 72% of Higgidy's food range was vegetarian or vegan.
Earlier in the year, Higgidy announced £10m plans to expand its Shoreham-by-Sea facility after Samworth Brothers increased its stake in the business. The brand also plans to double the size of its business in the next five years.