'Tis the season! Bakers are getting into the festive spirit with a host of treats for Christmas.
Gail's Bakery, Premier Foods and Ole & Steen are among those to reveal new products including festive mince pies, jolly gingerbread bars and merry buns.
McVitie's, Baker Street and Hummingbird Bakery, meanwhile, have already revealed their plans for Christmas.
Here's our pick of the latest Christmas NPD: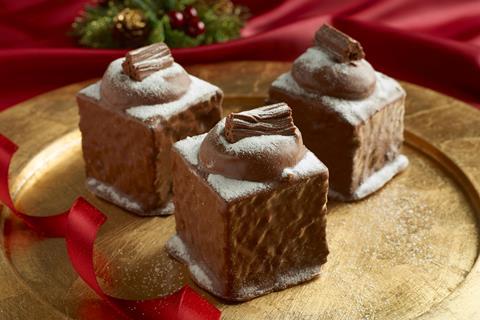 Country Choice
Country Choice has unveiled a range of tree-mendous sweet and savoury bakes for the season of carols.
Its thaw and serve desserts include a Chocolate Mallow Pudding (£21.85/pack of 20), Christmas Jammy Shortcake (£18.20/pack of 16) and Chocolate Yule Cake (£21.85/pack of 20). For a snow-stopper, its Snowman Cupcakes (£21.85/pack of 20) pack a punch with a Belgian chocolate sponge, vanilla flavour icing and milk chocolate decorations. Individually wrapped with labels included, they have a shelf life of 14 days once defrosted.
For something a little less sugary, the Turkey, Stuffing, & Cranberry and Ham Bake (£40.65/pack of 36), Chicken Stuffing Bake (£39.45/pack of 36), Steak and Cheese Bar (£36.90/pack of 40), Bite Size Sausage Rolls, Bite Size Cheese and Onion Rolls, and a Turkey, Stuffing and Cranberry Sandwich Filling (£18).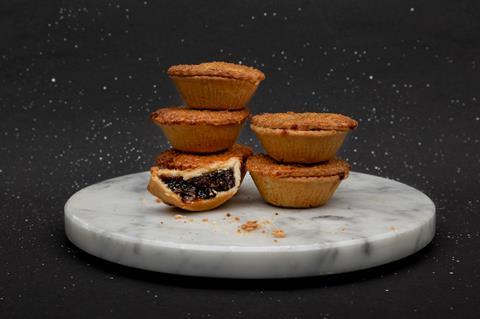 Gail's Bakery
To get into the festive spirit, Gail's Bakery has rolled out a new range for Christmas.
For a seasonal classic, its mince pies are filled with fruit soaked in brandy and encased in pastry baskets. At £1.80 per pie and £8.90 for a box of six, the pies were voted one of the best mince pies in London, said Gail's.
The Christmas Bun (£3) is made up of a mixture of orange and vanilla. It is available for an rsp of £10 for a box of four.
For something savoury, consumers can try the waste-less Christmas Sandwich (£5.50) or 2kg Christmas Sourdough with Stencils (£13/per loaf) with a dark, burnished crust and tangy flavour.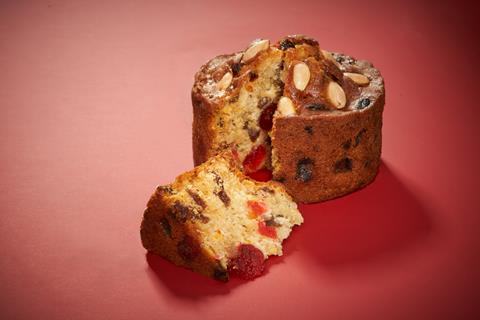 Fatherson Bakery
Fatherson Bakery has extended its Christmas range with an array of cakes, cupcakes, pies and tarts.
Consumers can try the Iced & Marzipan Topped Rich Fruit Cake and Dundee Cake for an indulgent dessert. Both treats are 5-inches in size and available for an rsp of £9.99.
The 9 Mini Cupcake Platter (£3.50) comprises chocolate cakes topped with red, green and chocolate brown icing.
Featuring Fatherson's award-winning pastry, the Port & Cranberry Pie features orange shortcrust pastry filled with port soaked cranberry mincemeat.
The shallow Mincemeat Bakewell Tarts (£3.99/pack of four) comes in the form of mincemeat and Bakewell flavours.
Handmade and hand decorated, they are available across the UK, in the Co-op, Budgens, Spar and Londis, as well as in Dobbies, Squires, Hillier.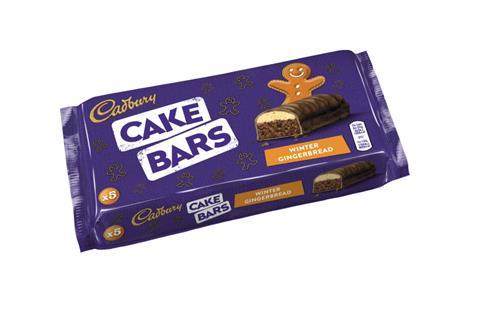 Premier Foods
Premier Foods has extended its range with a gingerbread cake bar from Cadbury.
The Cadbury Gingerbread Cake Bars feature a chocolate sponge, topped with gingerbread flavoured crème and milk chocolate.
It is set to help retailers meet demand for seasonal flavours, said the firm.
Available now for an rsp of £1, it follows returning favourites such as Mr Kipling Deep Filled Mince Pies, Frosty Fancies, Cadbury Mini Yule Logs and Reindeer Cakes.
"Whilst the impact of Covid-19 will bring many new dynamics in terms of behaviours and sales to the festive season, we predict that people will continue to look for brands they trust to help celebrate with family – as many shoppers have done throughout lockdown. Our popular Christmas range from Cadbury Cake and Mr Kipling is bound to help new and loyal customers get into the festive spirit," said Mathew Bird, brand director for sweet treats at Premier Foods.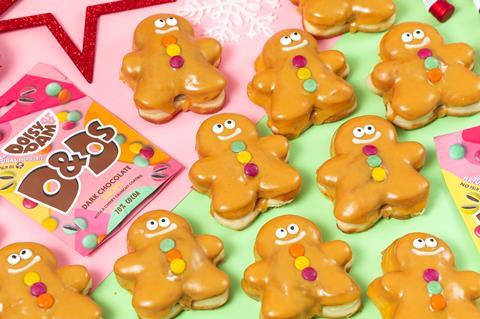 Doughnut Time
London-based Doughnut Time has joined forces with chocolate brand Doisy & Dam to serve up a gingerbread and doughnut hybrid.
The Gingerbread Doughman is made up of Doughnut Time's classic flour blend, proved and shaped into gingerbread man, piped with Biscoff spread and dipped into a ginger caramel glaze. They are also set to be released as a DIY kit.
Doisy & Dam, which is an ethically sourced, oil and palm-free brand, has added its chocolate buttons to form the gingerbread man's winter coat.
It will be the UK's first vegan gingerbread Doughman, said the firm.
The Gingerbread Doughman is available to order online or for collection from Doughnut Time's London stores.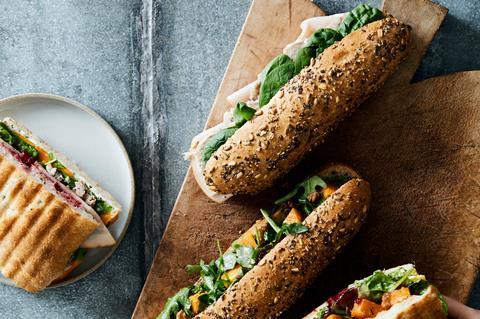 Ole & Steen
Ole & Steen has unveiled a Christmas range to bring a sense of Danish 'hygge'.
The Christmas Social features a cinnamon social dough filled with custard and orange jam, topped off with chocolate icing, gold-dusted flaked almonds and crispy white chocolate pearls.
Its Danish mince pies are filled with mincemeat and persipan, and topped with an almond crumble.
The Danish Stollen is studded with Christmas raisins, orange and lemon candied peel and finished with cardamom spices.
Other treats to warm the cockles include Christmas cookies with ginger, white chocolate chunks and dried cranberries, as well as the Juleboller Christmas Bun with its sweet pastry, raisins, marzipan and candied orange peel.
Sandwiches come in the form of the Christmas Sandwich with a seeded torpedo roll filled with roast turkey, pork & apple stuffing, cranberry sauces, tarragon mayo and rocket.
The Happy Hygge Vegan Feast Sandwich is packed with slices of roast squash, cranberry sauce, vegan tarragon mayo, vegan parsley pesto, walnuts and rocket. Both sandwiches come in toastie variants with cheddar or vegan cheese in focaccia.
Everything is available for takeaway, delivery and click & collect from the new Ole & Steen app.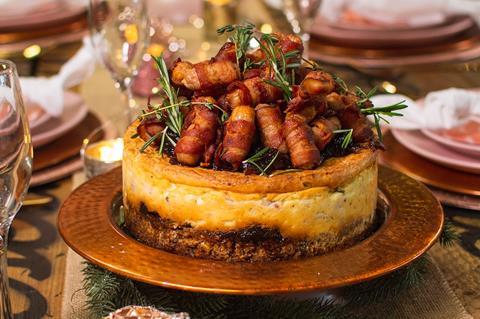 Pleesecakes
The cheesecake supplier has rolled out a trio of festive treats, serving eight to twelve people.
The Notorious PIB (£38) comprises a cheddar cheese, oatmeal and thyme base with a cheesecake filling containing fresh thyme, sage and pigs in blankets, topped with a caramelised onion chutney, extra pigs in blankets and fresh sprigs of thyme and rosemary.
The Rebel Without A Claus (£48) has a chocolate orange cheesecake encased in dark chocolate and a praline feuilletine sphere, complete with chocolate orange Kit Kat, Lindor and Terry's pieces. It is decorated with a white chocolate drip, topped with homemade candied oranges, raspberries and cinnamon.
Saint Nick's Surprise BYOAH (Build your Own At Home) features a ready-made frozen pecan and fudge digestive base, caramelised pecan swirl cheesecake filling, cake board, signature chocolate ganache. Consumers can decorate their creation with homemade pecan fudge, caramel pecan cookie dough and golden and dark chocolate shards. It is available nationwide for pre-sale only and will be delivered from 14 December.
The Christmas range is available for collection from its flagship store in Redhill, or delivery within a 70-mile radius of RHI until 31 December.
Here's what other retailers have in-store for Christmas: