Things aren't quite what they seem in Asda's 2020 Christmas range.
There's a savoury yule log, for example, a cake shaped like a brussels sprout and a pastry wellington filled with turkey instead of beef.
It has also experimented with flavours, according to Linsey Taylor, senior director – new product development, and boosted its vegan range with new additions to the party food and desserts menu.
"We've experimented with combining signature flavours like spiced orange for an even bigger impact this year, so whether that's Triple Sec & Spiced Orange Cookies or Courvoisier Cognac in the Christmas Cake Truckle, customers will find fresh flavour combinations to explore," she said.
Here's some of our favourites from Asda's festive bakery line-up…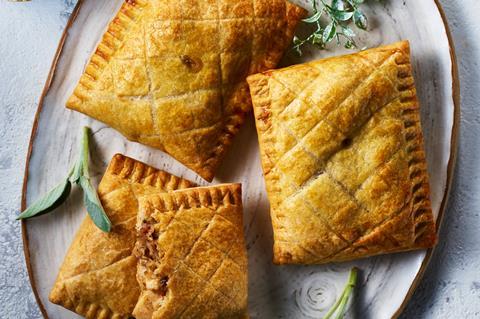 Turkey, Stuffing & Bacon Bakes
Watch out Greggs! There's a new festive bake in town. Asda's Christmas bake is filled with turkey, sage & onion stuffing, smoked bacon, cranberries and gravy in a pastry parcel that will "make every day feel like Christmas day".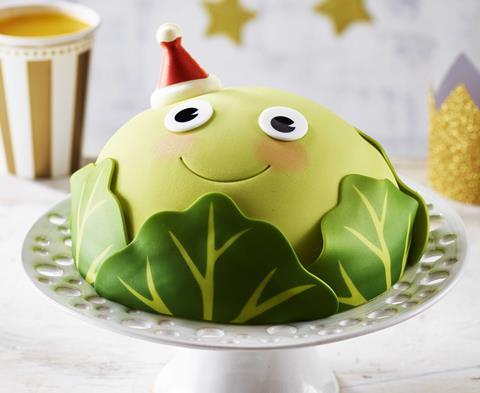 Bruce the Brussels Sprout Cake
Say hi to Bruce! Kids and adults alike won't have any problems eating their 'greens' this year thanks to this happy chappy, who is described as Asda's cutest festive cake yet. Inside the smiling exterior, complete with Santa hat, are layers of moist chocolate sponge with chocolate frosting.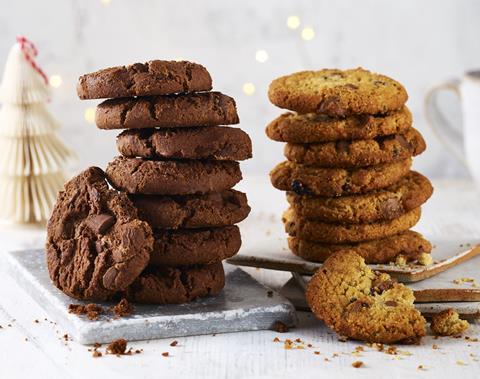 Free From Sour Cherry & Brandy Cookies
These gluten-free cookies, which are part of the Extra Special range, are made with on-trend sour cherries and a kick of brandy which Asda says makes them the perfect gift to enjoy with a wintertime cuppa. It has also added Spiced Orange & Triple Sec Cookies to its line-up. The chocolate cookies are infused with warming spices, candied Sicilian orange and Italian orange liqueur with Belgian dark chocolate chunks.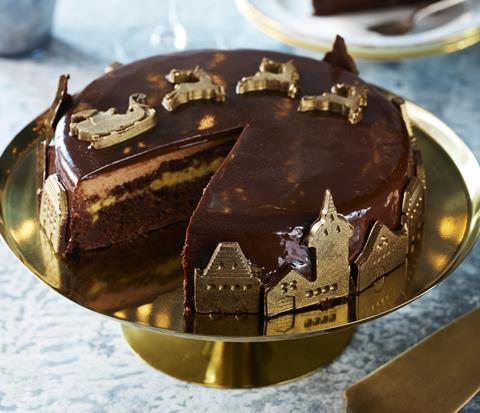 Night Sky Chocolate Orange Gateau
Embracing the classic combination of chocolate and orange, this cake has layers of chocolate sponge soaked with orange liquor, dark chocolate orange flavoured ganache, orange curd and chocolate mascarpone cheesecake. It's topped off with a dark chocolate mirror glaze and hand moulded decorations depicting a sleigh and reindeer.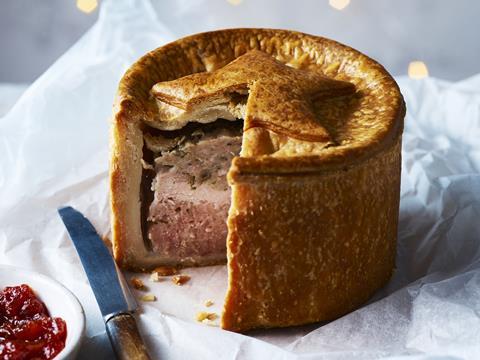 Chicken, Pork and Stuffing Pork Pie
Asda's pork pies just got an upgrade. It sees hot water crust pastry filled with British chicken, outdoor bred British pork and pork, sage & onion stuffing in what Asda describes as the ultimate festive snack. For a hint of festivity on the outside, it's topped with a pastry star.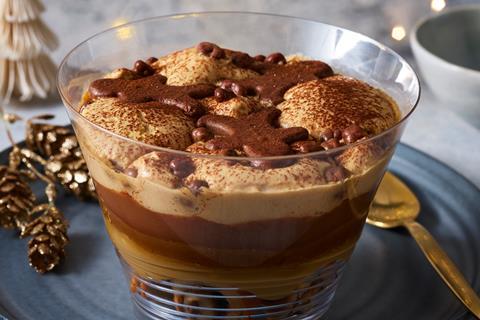 Cinnamon Roll Layered Dessert
Think of this as a new twist on trifle. At the bottom is a layer of cinnamon rolls, topped with toffee sauce, salted caramel sauce, chocolate custard and toffee mousse. It's finished with a dusting of cocoa and milk chocolate gingerbread men shapes.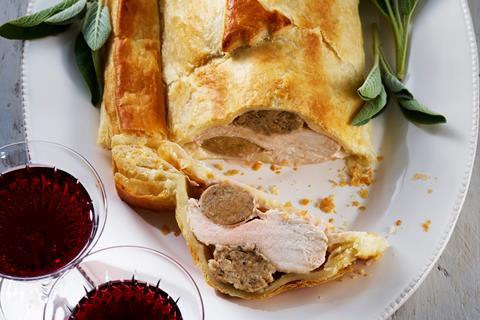 Turkey Wellington
Asda is looking to challenge beef's monopoly on the wellington market with its Turkey Wellington. Offered up as an alternative centrepiece, it sees turkey breast and a pig in blanket topped with pork, sage & onion stuffing wrapped in a puff pastry case.
Almond Speculaas
Another great treat to go with a cuppa, according to Asda, are its almond speculaas. They have a soft spiced pastry bottom, smooth almond filling and spiced almonds on top.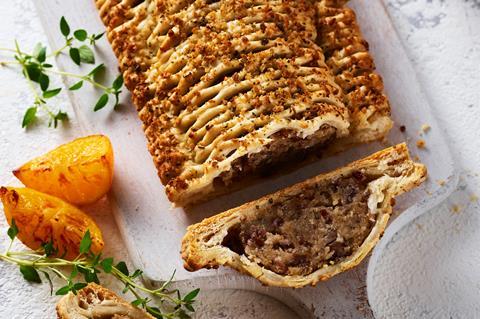 Vegan Yule Log with Chestnuts and Cranberries
For those looking for a meat-free main, there's the Vegan Yule Log with Chestnuts and Cranberries. A lattice-style puff pastry is filled with meat-free mince, chestnuts and cranberries before being topped with a sage and herb sprinkle.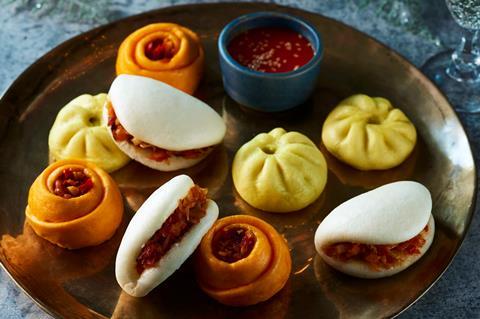 Vegan Bao Bun Selection
Tapping into the rising popularity of bao buns is Asda's Extra Special Bao Bun Selection. The vegan trio are filled with fragrant Asian flavours and spices, including BBQ jackfruit, char sui mushroom and massaman vegetables. They're part of Asda's party food selection which includes a Vegan Mexican Style Selection, with mini chilli bean burritos, and an Oriental Vegan Selection which has mini duck-less spring rolls and katsu won tons.
Here's what other retailers have in-store for Christmas: