Colin the Caterpillar and Percy Pig have been given festive makeovers as part of Marks & Spencer's Christmas bakery range for 2020.
Alongside the iconic duo are a host of other new bakery products. There's an emphasis on indulgent desserts, hybrid bakes and over the top sausage rolls.
"That first taste of Christmas, however early you have it, is a big milestone many of us count down to, whether it's a turkey sandwich, or something a bit sweeter. This year our bakeries are really getting into the spirit with some magnificently festive cookies, cakes and pies, as well as our first ever Christmas yumnut," said Kirsty Rowley, product developer.
There's definitely more sweet than savoury in the M&S bakery line-up.
"This year's dessert collection is more impressive than ever and perfect for every occasion, including rounding off the main event," added product developer Alice Holman. "Check out our ooziest, chocolatiest treats, which are guaranteed crowd-pleasers, and we have also gone for gold this festive season with our showstopping golden balls profiterole stack and theatrical gold bullion bar."
Here's our pick of the sweet and savoury bakery treats to grace M&S' shelves this festive season: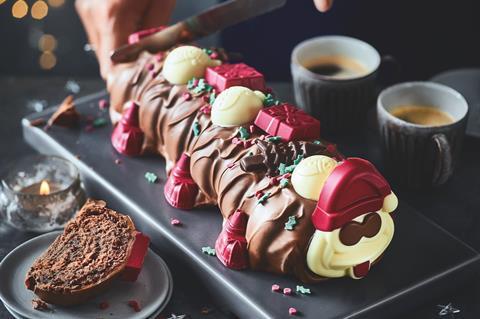 Christmas Tree Colin the Caterpillar
M&S' favourite caterpillar has been given a festive overhaul, complete with edible Santa hat and decorations. The cake features classic Colin flavours in the form of a chocolate sponge roll filled with chocolate buttercream and finished with milk chocolate. Serving 10, Christmas Colin costs £10.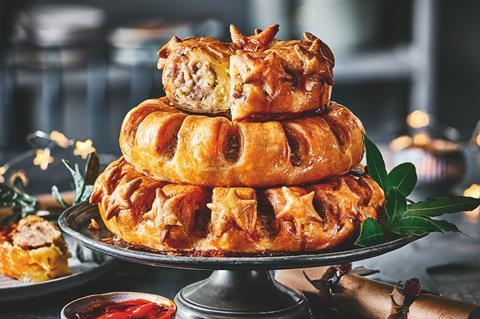 Star Studded Sausage Roll Stack
What's better than one sausage roll at Christmas? Thirty-two of them all baked together over three tiers. This centrepiece is made with seasoned pork sausage and all-butter pastry, complete with star decorations for added festivity. It costs £12. Also joining the M&S sausage roll roster is a Merry Christmas Giant Sausage Roll. Priced at £8, it's made for sharing and is a giant version of the retailer's 'Our Best Ever' sausage roll made with pork and caramelised onion filling.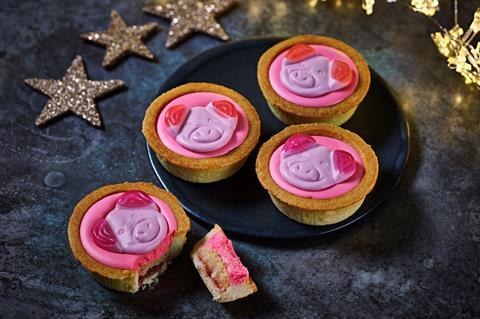 Percy Pig Percymas Pie
Mince pies might not be to everyone's taste, but M&S reckons its Percy Pig Pies are. The 'fun alternative' to the traditional Christmas fare combines shortcrust pastry with a fruity filling and a Percy Pig-flavoured sponge, all topped with Percy Pig-flavoured fondant icing. To complete the look, each pie is topped with a Percy Pig sweet. They're priced at £2 for four pies.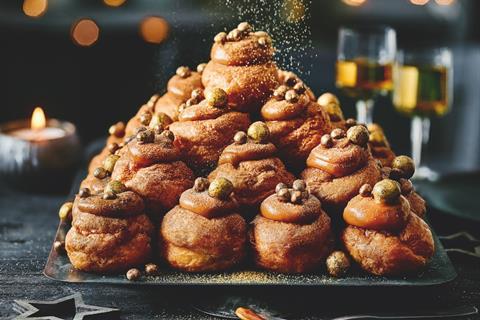 Golden Balls
Profiteroles just got posh. M&S' version sees delicate choux pastry puffs filled with whipped cream, layered with rich salted caramel sauce and decorated with gold malt balls and gold shimmer for some extra sparkle. The dessert costs £12 and serves eight people.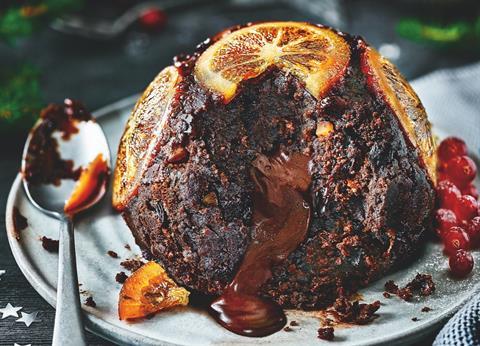 Collection Chocolate and Orange Christmas Pudding
Chocolate orange meets Christmas pudding in this latest twist on the yuletide classic. The pudding features 'rich and zesty' vine fruits, Belgian chocolate, orange liqueur and brandy for a boozy hit. Hidden inside is a melt-in-the-middle chocolate and orange sauce. It serves eight and costs £12.
Merry Christmas Giant Vegetable Roll
A Merry Christmas Giant Vegetable Roll, priced at £8, has also been added to the pastry roll line-up offering a plant-based version. It sees vegan puff pastry filled with carrot, swede, butternut squash, cranberries and seeds.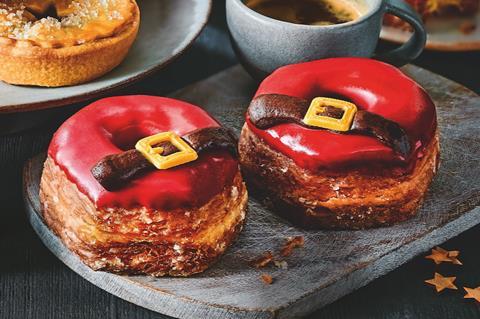 Santa's Yumnut
Described by M&S as 'this year's biggest bakery superstar', a festive variant has been added to its yumnut line-up. A cross between a yum yum and a doughnut, it features 48 layers of pastry with a Santa's belt motif in icing on top. As part of its in-store bakery range, the Santa's Yum nut costs £1.50 for one or £4 for a box of three.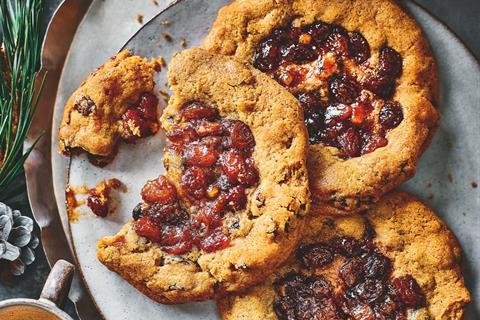 Mince Pie Cookies
Another example of a hybrid bakery product comes in the form of M&S' mince pie cookie. It sees a soft and chewy spiced cookie topped with a dollop of mincemeat and priced at £1.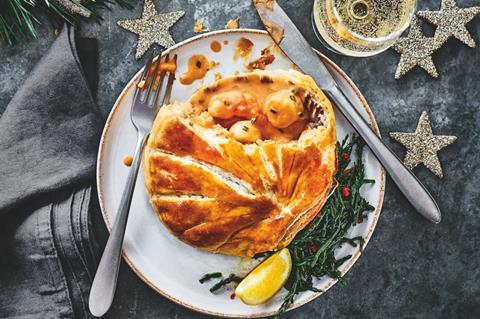 Shellfish Puffs
Described as a showstopping starter, the shellfish puffs feature Queen scallops and Honduran prawns covered in a creamy shellfish sauce and served in scallop shells before being topped with all-butter puff pastry. A pack of four costs £20.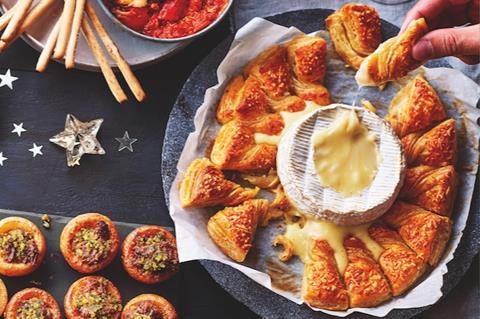 Tear & Share Handcrafted Cheese Puff Pastry with Molten Camembert
Last year's brie en croûte nearly #broketheinternet, according to M&S. This year, it's joined by a rich and buttery pastry tear and share which sees a whole camembert surrounded by Cheddar and regato pastry puffs for a cool £12.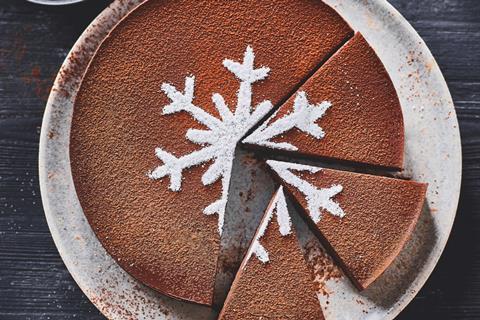 Plant Kitchen Chocolate Torte
M&S has added to its vegan-friendly Plant Kitchen rage. The torte has a smooth dark chocolate ganache and a biscuit base all finished with a dusting of cocoa powder and snowflake decoration. It costs £12 and serves six people.
Here's what some of the nation's other retailers have planned for festive bakery in 2020: