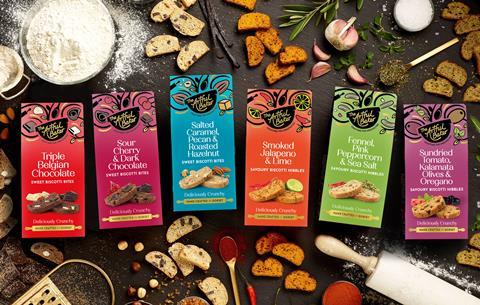 Dorset-based bakery The Great British Biscotti Co is rebranding to The Artful Baker as of January 2022 as it looks to expand its portfolio beyond biscotti.
The Artful Baker was previously described as the "younger, more discerning" brother of The Great British Biscotti Co. It was launched in 2017 as a small batch artisanal offering to the independent sector, supplying delis, cafes, hamper specialists and The National Trust. Since then, there's been a 'significant' site overhaul to meet the changing needs of the company as well as an uplift in export, the creation of vegan and gluten-free NPD and collaborations with Hotel Chocolat and John Lewis.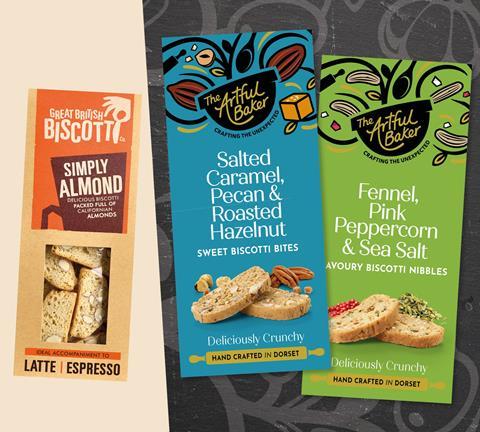 Notably, the company received a six-figure investment as part of the Batch Ventures innovation fund which was set up in 2020 by Warburtons and independent business accelerator Mission Ventures to back businesses which produce innovative bakery products.
"Working with Warburtons, coupled with positive feedback about our new Artful Baker single baton offerings, reminded us that we are really onto something special with regards taking a timeless classic and giving it extra integrity and category authority," said founder Paul Rostand.
As part of the transition, the business has 'taken stock' of its offering with the product range stripped back to six 'hero' lines including revamped favourites and NPD. Joining the range are Salted Caramel, Pecan & Roasted Hazelnut Sweet Biscotti Bites, and Fennel, Pink Peppercorn & Sea Salt Savoury Biscotti Nibbles. The other variants in the range are: Triple Belgian Chocolate, Sour Cherry & Dark Chocolate, Smoked Jalapeno & Lime and Sundried Tomato, and Kalamata Olives & Oregano.
"Great British Biscotti allowed us to hone our craft in creating sublime permissible treats, but now we're in a significant growing phase, and with us looking beyond biscotti. We needed a more indulgent brand identity to reflect our increasingly indulgent and diverse biscuit beliefs," Rostand added.