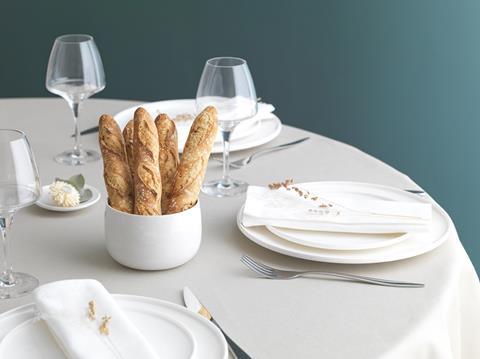 French bakery manufacturer Bridor has partnered with Parisian bakery Maison Lenôtre to create two new bread rolls.
The NPD represents 'the very best of French bakery traditions', according to Bridor, and comprise a Finedor Ancient Grains Mini-Baguette and a Scandinavian-inspired Nordic Ball Roll.
The former is made with spelt sourdough and a 'unique' blend of seeds including chia, amaranth and millet. Available in a 50g classic mini-baguette shape, it is sold in batches of 50 with the rolls requiring six to eight minutes in the oven to finish baking.
Bridor's new Nordic Ball Roll, meanwhile, is described as having a traditional shape and is scored by hand. The recipe features a blend of flours and seeds, including poppy, millet, sunflower and flax, which results in a bread with a dark centre and flavour of toasted cereals, the firm said. The 60g rolls are sold in batches of 65 and require seven to nine minutes baking.
Both were designed with the hotel and catering sectors in mind offering 'unique shapes and flavours' to help create variety on the table.
"We are delighted to be building on our 20-year relationship with the prestigious Maison Lenôtre," said Blandine Daugene, EMEA marketing director for Bridor.
Maison Lenôtre has 11 sites across France, predominantly in Paris with a couple outside the city as well. Its products include a wide range of galettes, macarons and pastries as well as breads such as brioche and baguettes.
"Both businesses have a shared passion for high standards, excellence and creativity, and the development of our new range of rolls is designed to provide diners with a source of pleasure for all five of their senses," Daugene added. "Bread is very much appreciated, and our sophisticated recipes bring the very best French craftsmanship to hotels, restaurants and caterers."
The launch follows Bridor's work with renowned pastry chef Pierre Hermé last summer which saw the partnership unveil a five-strong range of Viennese pastries.