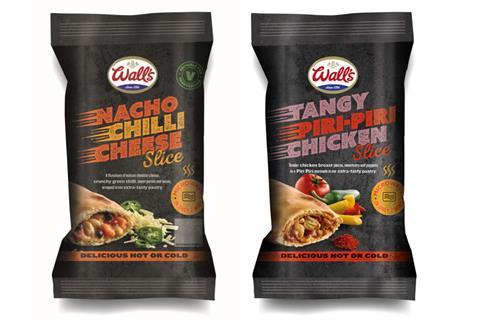 Health is climbing the agenda for new bakery launches with reduced sugar cookies and lower fat pizza among the latest launches from some of the UK's biggest brands.
Other recent innovations seek to tap into demand for convenient products to eat on the go and the home baking boom. Here's our round-up of the latest bakery NPD: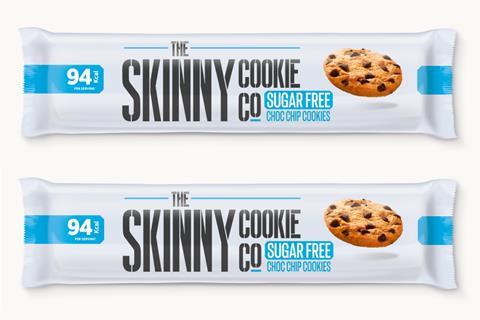 The Skinny Cookie Co, Burton's Biscuits
Burton's Biscuit Company has unveiled a new 'permissible snacking brand' called The Skinny Cookie Co.
Aimed at the adult snacking market, the brand features three variants to 'help consumers proactively include sweet treats as part of a healthy, balanced diet'. The trio are:
Choc Chip Thins, 128g pack, 76kcal per serving
Choc Chip Mini Cookies, 99g, 98kcal per serving
Choc Chip Sugar Free Cookies, 230g, 94kcal per serving
The range is exclusive to B&M with an rsp of £1 before rolling out across the discounter channel.
"Permissible snacking shouldn't be boring and bland. The Skinny Cookie Co provides delicious biscuits in Thins, Sugar Free and Mini variants, for a variety of needs and occasions, ensuring consumers never have to compromise on flavour and texture as they enjoy a guilt-free snack," said Kate Needham, marketing director at Burton's Biscuit Company.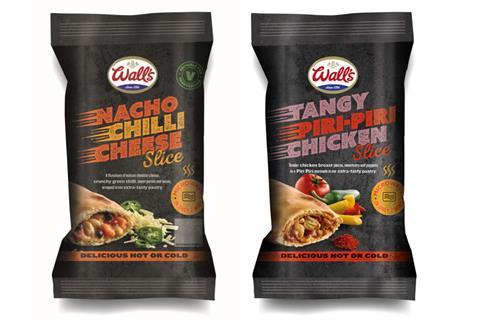 Nacho Chilli Cheese Slice, Wall's Pastry
Wall's Pastry has expanded its range of microwave slices with two new variants – Nacho Chilli Cheese and Piri-Piri Chicken – as it prepares for a rollout in selected Asda stores and forecourts across the UK.
A vegetarian option, the Nacho Chilli Cheese slice sees puff pastry filled with sweet potato and mature cheddar cheese, blended with beans and green chillies. It contains 15g of protein, 16g of fat and 448 calories. The Piri-Piri Chicken variant, meanwhile, is filled with chicken, sweetcorn and peppers in a Piri-Piri marinade. It contains containing 15.8g of protein, 10.8g of fat and 396 calories. All the 180g slices have an rsp of £1.50.
The new flavours will join existing slices, Mexican Chicken Fajita and Chilli Beef Burrito, on shelves. They are described as a modern twist on the brand's traditional core products.
The slices were created by Addo Food Group on behalf of Wall's Pastry and first launched into UK Tesco stores in 2020.
"The microwave slices were developed to fit into everyday busy routines, as they make the perfect working from home or office lunch as well as a satisfying meal alternative for teenagers and students," said Mike Holton, brand manager at Wall's Pastry.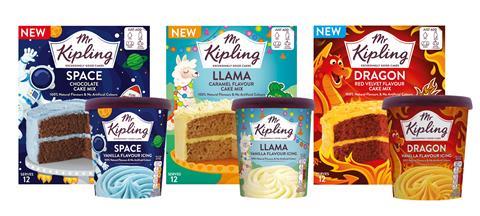 Llama Caramel Flavour Cake Mix, Mr Kipling
Premier Foods is expanding its presence in the home baking category with new products in the Mr Kipling range.
Llama, space and dragon themed cake mixes and ready-to-use icing pots, all with an rsp of £2.50, are rolling out as the brand looks to capitalise on the home baking boom. The llama cake mix is caramel flavoured, the space version is chocolate and the dragon mix is red velvet. All the icings are vanilla but come in different colours to complement the theme.
The dragon variants are due to roll out from April, with the others available now.
They follow the success of its unicorn and Halloween baking mixes. Mr Kipling first ventured into the home baking category in 2019 with a range based on some of its iconic lines.
"These additions see Premier Foods continue to drive sales within the category, having already brought in 3.7m new shoppers over the last year across our portfolio," said Helen Touchais, brand director for home baking at Premier Foods.
"The themed mixes from Mr Kipling target families looking for fun and engaging activities to try together at home, whilst all the products are made from no artificial colours or flavours, a key consumer need from parents."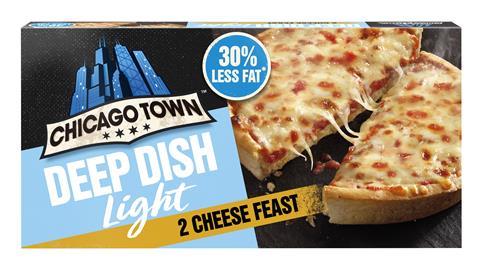 Deep Dish Light Cheese Feast, Chicago Town
Frozen pizza brand Chicago Town is adding a lighter offering to its Deep Dish range.
The Deep Dish Light Cheese Feast boasts 30% less fat than the original because of a lighter cheese blend, featuring mozzarella and reduced-fat cheddar, and a new crust recipe. Chicago Town described it as the first of its kind in the frozen pizza market.
"The Chicago Town Deep Dish Light Cheese Feast is a great addition to our popular Deep Dish range. We wanted to give our customers our signature cheesy taste, while offering a reduced fat alternative – and this pizza does just that," said Rachel Bradshaw, Chicago Town marketing manager.
According to market research conducted by the brand, nearly three quarters (73%) of those polled wouldn't have known it was a lighter pizza.
"In our consumer research, the large majority of our taste testers said they would purchase the new Deep Dish Light Cheese Feast," Bradshaw added.
It's available in selected Tesco stores now with an rsp of £2.39.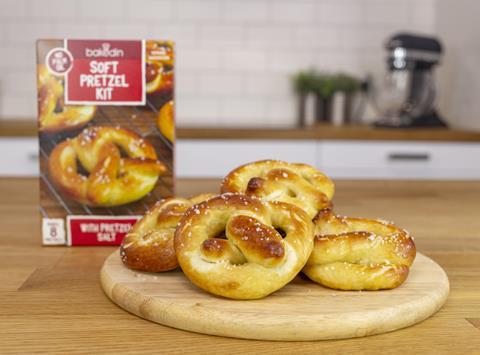 Soft Pretzel Kit, Bakedin
Baking kit firm Bakedin has launched a Soft Pretzel Kit into Tesco.
Priced at £2.50, the kit contains all the dry ingredients home bakers need to make eight salted pretzels, and instructions on how to knead and shape the distinctive classic pretzel shape. Each pretzel is then soaked in a bath of bicarbonate of soda before baking, giving them their characteristic flavour, texture and the shiny deep brown crust.
It follows the launch of last year's monthly Bread Club subscription club, which now has more than 20,000 members, and the company's partnership with Nutella on a Brioche Bun Baking Kit.
"We all know the UK went baking-mad last year," said Joe Munns, CEO and founder of Bakedin. "We've found there's an increased focus on what baked goods can offer consumers' lives whether it's emotional wellbeing, environmental impact or just a moment of happy creativity. Our pretzels respond to all those needs, alongside a willingness in consumers to be more adventurous and ambitious in their bakes."