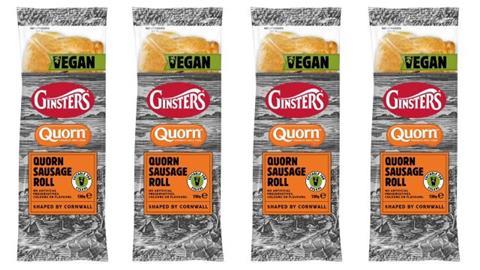 Pastry brand Ginsters has teamed up with meat-free producer Quorn to launch a vegan sausage roll.
The Ginsters' Vegan Quorn Sausage Roll comprises a bespoke meat-free sausage, peppered with herbs and spices, in a light puff pastry. Created by Ginsters' chefs, the sausage roll is baked, and the ingredients are sourced in Callington, Cornwall.
Both brands previously collaborated in September 2019 to create the Ginsters Vegan Quorn Pasty.
"We know 55% of all consumers are reducing their meat intake, yet the choice for vegan rolls is very limited," said Kieran Hemsworth, managing director at Ginsters.
"This extension to our meat-free range has been developed to close the disparity between consumer demand and market choice, while building on the success of the Ginsters Vegan Quorn Pasty and our award-winning, vegan-friendly Moroccan Vegetable Pasty."
Pre-family shoppers, who over-index in meat-free, offer a growth opportunity worth £5.8m, added Ginsters.
"We couldn't have asked for a better start to our collaboration with Ginsters. Our vegan pasty became the fastest-selling meat-free pasty in the market, so teaming up to create a sausage roll version has been a natural – and exciting – progression," added Andy Smith, director of business development at Quorn.
Ginsters' Vegan Quorn Sausage Roll will be available for £1.25 in stores nationwide from 15 April.
Quorn has been used as a meat alternative in a range of vegan product launches, including Greggs' vegan sausage roll and Quorn-branded sandwiches from Adelie Foods.