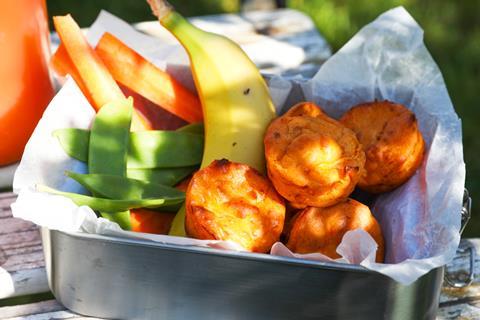 Veg-led pastry specialist Higgidy has teamed up with Wildfarmed to introduce flour milled from regenerative farmed wheat into two of its muffin products.
Higgidy, which gained B Corp accreditation in 2021, said the move to reformulate its SunBlush Tomato & Mature Cheddar Mini Muffins and Cheddar & Spinach Mini Muffins supports its belief in creating a better food future. This includes the idea that knowing what we eat and how it is made has a huge impact on people and the planet.
The bakery brand added that it wanted to make sure "everything possible is being done to make feel-good food while reducing the impact of the business too", with its new partnership with Wildfarmed seen as an important step towards helping fulfil its mission. It was also noted as a first for the savoury pastry category.
Both varieties of mini muffins are available to purchase at Sainsbury's, Waitrose, Tesco, Co-Op, and Asda stores nationwide as well as via Ocado and Abel & Cole.
"We are really excited about this new partnership with Wildfarmed," said Higgidy CEO Rachel Kelly. "We pride ourselves in working with an amazing supplier network that share our values and using Wildfarmed flour is an important step towards making a positive difference to our planet.
"We hope to expand the number of products that use Wildfarmed flour over the coming years so we can further reduce our environmental impact as we continue to make delicious food that feels good and tastes great," Kelly added.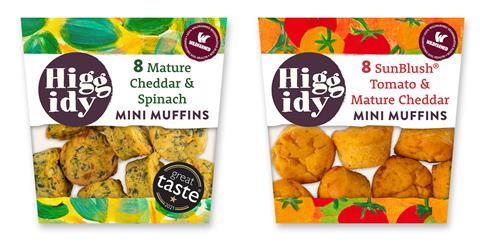 The 350-strong team at Higgidy's production site in Shoreham-by-Sea, West Sussex, currently creates over 370,000 pies, quiches, rolls and muffins by hand every week, which are stocked in over 3,000 stores across the UK. The business noted it had already achieved its goal of 75% of products being veggie or vegan, with plastic removed from its quiche and pie trays saving over 64 tonnes of plastic per year. It is also aiming to achieve net zero across operations by 2040.
Higgidy most recently launched a new Chicken & Sage Roast Potato Pie and Honey-Roasted Butternut Squash & Sage Veggie Rolls, along with campaign starring comedian Judi Love.
Additionally, its Sweet Potato Katsu Little Lattices were honoured as a finalist in the Free-from Bakery Product of the Year category at the recent Baking Industry Awards 2023, while Wildfarmed picked up the trophy for Sustainability Initiative of the Year.
Wildfarmed co-founder George Lamb said the company's wheat fields are full of birds, bees and bugs. "Most wheat fields are barren, dead landscapes but the way we farm is different. All this extra life in our fields means Wildfarmed wheat is healthier, tastier and more nutritious," he commented.
"Higgidy are raising the bar by baking our flour into their muffins, making real food that supports the transformation of huge areas of depleted British farmland into healthy fields that are full of life."
Back in August, Marks & Spencer announced it had started to use Wildfarmed regenerative flour in its in-store bakery range of sourdough loaves.