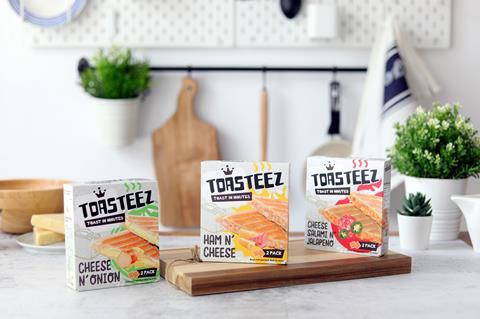 Bakery supplier United Food Brands has unveiled its new Toasteez brand.
Toasteez is made up of three ready-to-cook variants: Cheese N' Onion, Ham N' Cheese and Cheese Salami N' Jalapeño.
The Cheese N' Onion snack features gouda cheese, emmental cheese and roasted onions; Ham N' Cheese contains ham and emmental cheese; and Cheese Salami N' Jalapeño features salami, green and red jalapeños, gouda and mozzarella cheese.
With two packs per retail box, each 100g individually wrapped snack contains 40% filling.
"We have felt the chilled convenience food category has lacked innovation over recent years, so our Toasteez brand was born out of a desire to provide a real point of difference for consumers," said managing director Richard Reeves.
Consumers can cook the snacks for four to five minutes in a toaster or eight to 10 minutes in an oven.
The firm hopes to roll out Toasteez in convenience and retail stores later this year.
"We are looking to secure listings in the major UK supermarkets and, from there, grow our distribution into the convenience channels where we see a big opportunity," he added.
Based in Aldershot, United Food Brands supplies biscuit, bakery, cake and confectionery products to retailers in the UK.