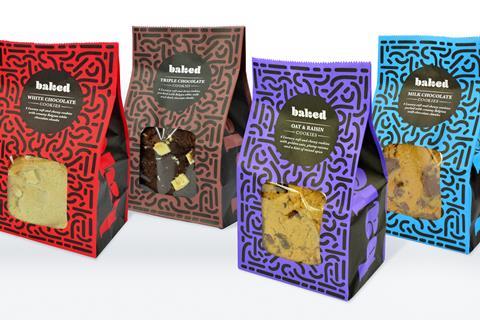 Rich Products is rolling out its Baked range across 108 Spar stores in Scotland.
The sweet bakery brand has extended its partnership with CJ Lang & Son, which owns the convenience stores, meaning the premium range of sweet baked goods will be available in them from 3 February.
Rich's initially launched cookies in select CJ Lang sites last summer and now the partnership will be evolved to include muffins and buns at an rsp of £2 each. The cookie line-up comprises white chocolate, triple chocolate, oat & raisin and milk chocolate variants.
More shoppers are looking for treats that are 'worth the calories', according to Rich's which added that the Baked range is positioned to help convenience retailers offer coffee-shop quality products.
The range will include:
Belgian buns - packed with sultanas and a lemon flavoured filling, hand finished with a fondant icing and half a glacé cherry
Cinnamon buns – includes cinnamon and sultanas, hand finished with a cream cheese flavour icing
Blueberry Muffins – topped and filled with blueberries, as well as a buttery streusel topping
Lemon Muffins – has a lemon curd filling and is topped with crisp sugar pearls
Triple Chocolate Muffins – comprises Belgian milk, dark and white chocolate chunks, as well as a glossy chocolate sauce filling
White Chocolate & Raspberry Muffins – flecked with raspberry pieces, Belgian white chocolate chunks and a raspberry filling.
"Over the past year we've seen a rise in people shopping locally – in fact, social media searches for 'local shops' are up by 179%. This means consumers aren't just popping in for their essentials but relying on their nearby convenience store for more premium, special products too. Especially those that are perfect for an indulgent 'treating' moment," said John Want, sales, marketing and R&D director at Rich's.
He highlighted the range's "vibrant and enticing" packaging which has helped the cookies become a bestselling bakery line within CJ Lang.
"It's great news for Spar customers across Scotland that we've worked with our partners at Rich to extend their range into our company-owned stores. Never has it been more important to offer shoppers a range of products, attractively priced through their local convenience store," added Stephen Brown, head of food to go for CJ Lang & Son.