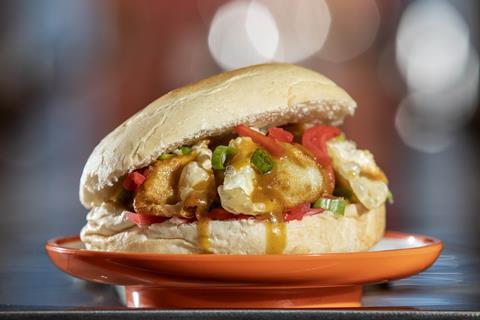 Restaurant Yo! has put a new twist on the north west delicacy of the pasty barm by combining it with Japanese cuisine.
The resulting Gyoza Barm sees a classic Bolton barm filled with three chicken gyozas, katsu curry sauce, spring onions and pickled ginger. A vegetarian version is also available which sees the roll filled with vegetable gyoza containing cabbage, carrots, edamame, and other vegetables.
The gyoza barm has been created to celebrate the launch of a new Yo! site at Middlebrook Retail and Leisure Park near Bolton. It's available for a limited time only and is designed to celebrate the fusion of Japanese and Bolton cuisines, Yo! said.
Locals will be able to taste the new barm delicacy during the first week of opening and the first 30 customers to ask for it during the 18-22 July will receive it for free. Yo! added that it is open to making the gyoza barm a permanent new menu item should there be the demand to do so.
"We're hugely excited to create a true Bolton and Japan fusion in the form of the 'Gyoza Barm' and would love to see any intrigued locals to come down and give it a try, embrace the two culinary traditions and get a taste of a Japanese twist on your classic barm," said Adam Townsley, head of food and development at Yo!
The original pasty barm features a buttered roll with a pasty, often meat & gravy or cheese & onion inside, and is said to have been invented by schoolboys in the 1950s and has remained a regional favourite in Bolton ever since.