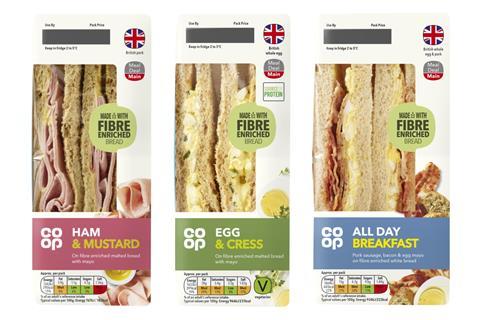 Co-op is to boost the fibre content of the bread used in its core own label sandwich range.
Wheat fibre, made from 100% wheat, has been added to Co-op's standard bread recipe. This fibre-enriched bread will be swapped in across 23 lines of the convenience retailer's core white and malted bread sandwiches from 16 February 2021.
The bread boasts up to 100% more fibre per 100g, with an average increase of 66% across the range.
Co-op highlights research from the National Diet & Nutrition Survey which found that only 7.5% of adults met the recommended fibre intake of 30g a day – the average intake was just 18.3g a day.
"There's evidence for a wide range of health benefits of fibre, so we're pleased to announce this industry-first move that will help our members and customers with their fibre consumption," said Bryonie Hollaert, diet and health manager at Co-op.
"However, despite the numerous sources of fibre available, it can be sometimes difficult to hit the recommended daily intake of 30 grams. The fibre-enriched bread in our core sandwiches will make it that little bit easier for customers to get closer to the target."
Kevin Sargent, senior product developer at Co-op, added that the retailer approached the move with a "convenience lens" which required no change to consumer shopping behaviours.
"We wanted to develop an already existing product and increase the amount of fibre without the customer even having to think about it while in our stores," he said.
The sandwiches can be purchased on their own or as part of the £3.50 meal deal.
Increasing the fibre levels of baked goods, while retaining taste and texture, is a persistent challenge for the industry.
Puratos UK recently gained a government-backed grant for the development of Maxfibre – a high-fibre micro powder made from by-products of brewery, cereal milling, and fruit processing.
Bridor has also made headway by rolling out a fibre-enriched bread range called L'Ambiote which is the result of four years of research.