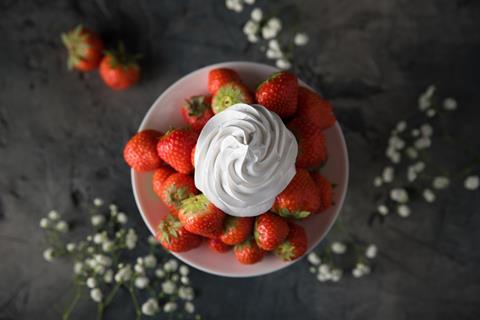 Better for you, vegan-friendly and gluten-free are just some of the consumer needs ingredients suppliers are tapping into with their latest raft of NPD.
Here, we take a look at some of the latest products to be made available to the baking industry: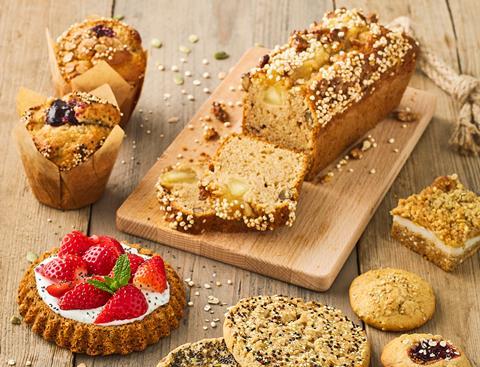 Super bakery range, Dawn Foods
Dawn Foods is tapping into demand for 'better for you' products with a new Super Bakery Range.
Kicking things off is a Whole & Ancient Grain Cake Mix which features quinoa, buckwheat and spelt, which can be used to make a variety of sweet treats including muffins, loaf cakes, cookies, waffles, and shortcrust pastry. It has 30% less sugar than Dawn's standard crème cake mix, the firm said.
Also part of the new range is the Delifruit Classic Superfruit Filling. Containing 70% real fruit, with only natural flavours and no additional colours, the ready-to-use filling is a combination of redcurrants, cherries, blueberries, cranberries and pomegranates. It can be used to fill doughnuts, decorate pastry or fine patisserie, layer or top sponges or inject into muffins.
"While today's consumer is looking for a sweet bakery treat, they are also mindful of their health and are increasingly choosing products with healthier, natural ingredients," said Jacqui Passmore marketing manager at Dawn Foods UK and Ireland. "There's been a big focus recently on ancient grains across snacking, bakery and cereal categories and this is now moving into sweet treats too."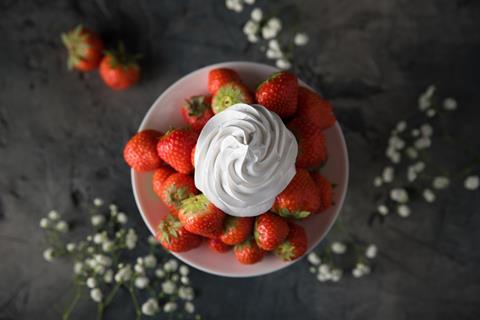 Plant-based cream, IFF
Ingredients manufacturer IFF is the latest company to roll out a plant-based cream.
Called Vegedan WP 1800, the product is designed to cater to the growing demand for plant-based whipping creams, IFF said, adding that it is made from on-trend coconut fat.
The protein-free cream can be whipped into a firm foam with 90 seconds of whipping, according to IFF, and can be used as a long-lasting decorative topping for a variety of baked goods.
"One of the challenges manufacturers often face is the viscosity build-up over time due to temperature variations. With Vegedan WP 1800, plant-based whipping creams will remain stable for up to nine months," said Kim Dahl, senior application specialist, IFF.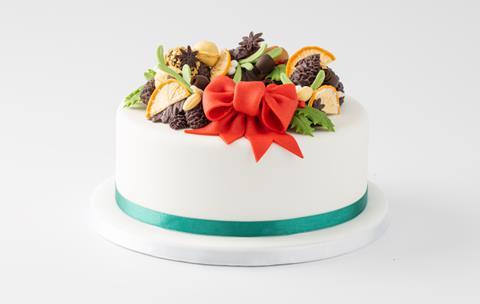 Sugar paste, Barry Callebaut Group
Chocolate and cocoa specialist Barry Callebaut Group has introduced a multi-purpose purpose Massa Ticino sugar paste through its global decoration brand Mona Lisa.
Available in 250g,1 kg and 2.5 kg packs, depending on the colour, the multi-purpose Massa Ticino sugar paste is available to buy online from several specialist wholesalers including The Craft company, The Cake Decorating Co. and The Vanilla Valley.
With a new recipe, the sugar paste is made from sustainable sugar and sunflower oil, replacing palm oil completely, the company said. It is also vegan-friendly.
"Innovation is an important pillar of Barry Callebaut's proven 'smart growth' strategy," said Vincenzo Mangano, sales director gourmet at Callebaut UK & Ireland. "I am delighted that the Massa Ticino sugar paste allows chefs to create unique consumer experiences, whilst making the designing process as simple as possible for them."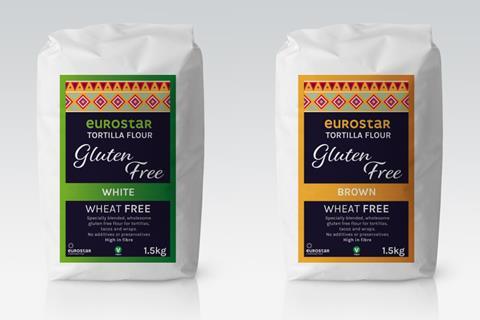 Gluten-free tortilla flour, Eurostar Commodities
Eurostar Commodities has unveiled a range of gluten-free flours for the creation of tortillas, tacos, and wraps.
Described as 'clean label', the range contains no additives or preservatives and is produced and packed in a gluten and allergen-free factory in Yorkshire, the company said.
The products contain starch, rice, pea and maize flours, as well as buckwheat flakes and vegetable fibres, are available in two varieties – white and brown – in 1.5kg and 3kg bags or cases.
Eurostar Commodities' director Jason Bull said there is continued interest in clean label products as consumers seek "simple, clean, and wholesome foods".
"We recognise that there is a huge opportunity to create a healthier flour for making wraps and tortilla. The market for these products is growing steadily in Europe and predicted to grow by 5.5% by 2027," he added.